Hands-On Tools for Learning Bundle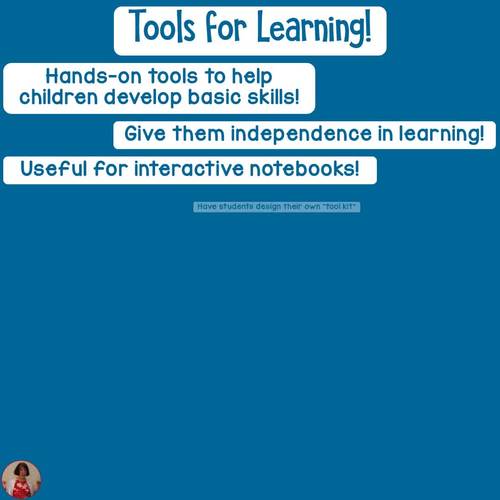 ;
Products in this Bundle (12)
showing 1-5 of 12 products
Bonus
Your Fantastic Elastic Brain (Worksheets and Ideas to accompany book)
Description
Want your students to be independent learners? These learning tools and references can be right at their fingertips!
Children can't remember everything, and need some references to help them remember what they are learning. These tools will help them as they are learning!
Rather than a few resources for the child's desk name tag, here are several pages of tools that the children can use to make their own tool folders or "offices". These are also helpful in Interactive Notebooks and subject folders.
There are 6 pages of math tools, 5 pages of writing tools, 6 pages of reading tools, 6 pages of Social Studies tools, and 7 pages of Science tools.
Report this resource to TPT
Standards
to see state-specific standards (only available in the US).
Tell and write time from analog and digital clocks to the nearest five minutes, using a.m. and p.m.
Solve word problems involving dollar bills, quarters, dimes, nickels, and pennies, using $ and ¢ symbols appropriately. Example: If you have 2 dimes and 3 pennies, how many cents do you have?
Understand that the three digits of a three-digit number represent amounts of hundreds, tens, and ones; e.g., 706 equals 7 hundreds, 0 tens, and 6 ones. Understand the following as special cases:
100 can be thought of as a bundle of ten tens - called a "hundred."
The numbers 100, 200, 300, 400, 500, 600, 700, 800, 900 refer to one, two, three, four, five, six, seven, eight, or nine hundreds (and 0 tens and 0 ones).