Handwriting Practice Print Cursive EDITABLE Name Writing Morning Work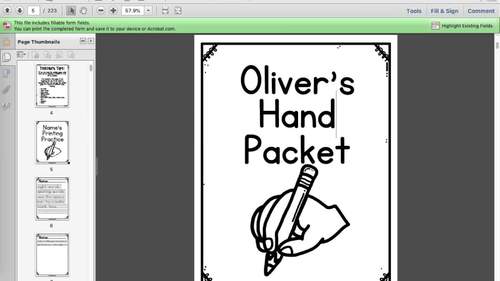 ;
What educators are saying
This is exactly what I needed for some extra handwriting practice. The editable pages are perfect. Thank You!
My 5th graders were not taught cursive, so I am using this to catch them up. I love being able to type their name and it will print a whole page of it.
Description
Handwriting Practice Print Cursive EDITABLE Worksheets are an easy way to add a little bit of daily handwriting practice into your schedule. This handwriting packet can be turned into a handwriting booklet or you can use one page at a time. Includes both print and cursive letter formation options, so you can also differentiate for your students or just use the option that works best for you! 
Included in this 445 page Handwriting Practice Print Cursive EDITABLE Worksheets you will find:
Cover page for a binder cover, packet cover, booklet cover, etc. (you can write something like "Gavin's Handwriting Practice" or "Our Class Handwriting"--it's up to you!)
Blank handwriting pages (these are perfect for adding sight words, spelling, name practice, your themed unit words, etc.)
Lowercase letters a-z (English)
Capital letters A-Z (English)
All letters on a single page (lowercase, capital, lowercase with capital)
4 levels of practice pages with consistent format (single large letter with numbered formation lines, letters with numbered formation lines spaced apart to allow for independent practice in between each letter, letters with numbered formation lines starting a row, and letters without formation lines starting a row)
What other teachers are saying about these Handwriting Practice Print Cursive EDITABLE Worksheets:
Extremely satisfied--Wow! I love this editable resource! I used this for morning work and used it for spelling, regular cursive practice, and I edited pages with student names! Love this and I will definitely use again!
Extremely satisfied--This resource is easy to edit to fit the needs of my students. It was easy to create cursive packets for my students. They love practicing their handwriting and this was an easy way to integrate it into our classroom!
Extremely satisfied--My kids are really engaged in the exploration of cursive handwriting. I love that I can edit these to provide differentiated practice based on individual student needs. This creates a more meaningful practice for each child.
Extremely satisfied--This was EXACTLY what I had hoped to find. I wanted to customize a writing page with the child's name and this took me a matter of seconds to do with this product! Thanks!
All rights reserved © Jen Lium | Teaching in the Tongass
Report this resource to TPT