Haunted ARt Halloween Activity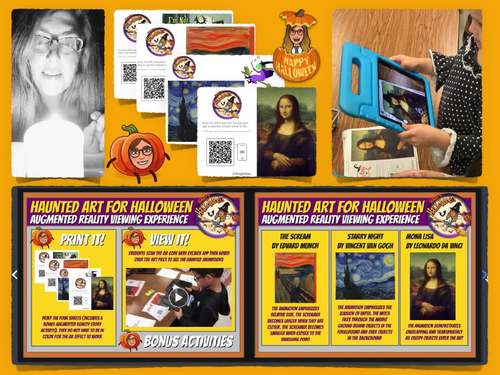 ;
Also included in
This bundle includes everything you need for a Scream Fest!The step-by-step mixed media painting lesson of The Scream by Edvard MunchThe Haunted ARt Augmented Reality Activity (which includes the Scream)The Enter the Scream Green Screen ResourceSee my newsletter to learn more about this SCREAM FEST

Price $10.00

Original Price $13.00

Save $3.00
Description
You are in for an amazing treat when you realize the tricks you can play with this fun augmented reality Halloween ARt activity!
I designed this augmented reality Halloween activity for my entire K-5 school to experience.
Print the activity sheets. You do not have to print them in color.
Download the Eyejack App (free) on a mobile device from the app store or google play
Engage students in questions before they scan the activity sheets so that they can watch the magical animations with purpose
Starry Night: Is the animation in the foreground, middle ground, or background?
Mona Lisa: What objects are overlapping her? Is anything transparent?
The Scream: Why is the figure changing sizes?
Find an art book, poster, or postcard with a printed version of any of these paintings and see what will happen when you scan them now. (Eyejack app will remember the QR code from the activity sheet provided and you can experience the Augmented Reality again).
BONUS! I added a storybook cover animation/activity sheet. Read the book, I'm Not Afraid of the Haunted House to your K-3 students. It's a little young for my 4th and 5th graders but they enjoy it too. I include a video of myself reading it as well.
Learn more about this resource from my newsletter.
Explore my other Transdigital Lessons here.
Need a way to advocate for iPads for your teaching space?
Share my Creating on iPads page with your administration.
Explore all my FUGLEFUN STEAM ART, SEL, and LEGO lessons and GAMES in this convenient index: bit.ly/fuglefunstoreindex
Report this resource to TPT
Standards
to see state-specific standards (only available in the US).
Describe objects in the environment using names of shapes, and describe the relative positions of these objects using terms such as above, below, beside, in front of, behind, and next to.
Communicate technical information about how some technological devices use the principles of wave behavior and wave interactions with matter to transmit and capture information and energy. Examples could include solar cells capturing light and converting it to electricity; medical imaging; and communications technology. Assessments are limited to qualitative information. Assessments do not include band theory.
Evaluate questions about the advantages of using digital transmission and storage of information. Examples of advantages could include that digital information is stable because it can be stored reliably in computer memory, transferred easily, and copied and shared rapidly. Disadvantages could include issues of easy deletion, security, and theft.