Healthy Habits Informational Text for Students to Visualize and Illustrate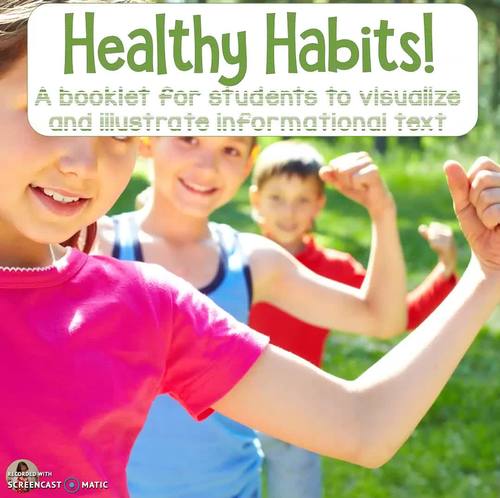 ;
Description
Based on current research on maintaining healthy habits, this resource gives students the opportunity to practice reading informational text and integrate the arts!
We want our children to know how to keep themselves healthy. This resource gives them the opportunity to learn healthy strategies while practicing reading skills.
Research shows that illustrating helps children internalize learning. It also practices important reading skills like visualizing, reading for detail, finding the main idea, and using informational text.
: This booklet is the result of much research on health and children. There are ten pages of good health habits in this booklet, which are explained in child-friendly language.
For more ideas on illustrating as a part of learning, see this blog post.
This is a booklet I made up that lists 10 different ways that children can stay healthy, with a brief explanation of each. There is space on each page for children to illustrate. There are years of research on staying healthy put into this booklet.
If these pages are run off back to back, it will print on 3 pages, then fold into a 12-page booklet for the children to illustrate and read over and over. This is a NO PREP activity! Just print on 2-sided, fold, and go!
This resource can be used at the beginning of a Health unit as an introduction, bit by bit during a Health unit, or at the end of a Health unit as a culminating activity. It also can be used months after a Health unit for review. These booklets are a great addition to the "Sub Tub"!
Be sure to download the preview file for a better understanding of what is contained in this resource. Thanks!
Go to your My Purchases page. Beside each purchase, you'll see a Leave a Review button. Simply click it and you will be taken to a page where you can give a quick rating and leave a short comment on the product.
Each time you give feedback, TPT gives you feedback credits that you use to lower the cost of your future purchases.
Feedback is greatly appreciated, and helps sellers create better resources!
****************************************************************************************Be sure to click on the green ★ to follow me for updates and new product announcements!
****************************************************************************************
Designed by Sally of Elementary Matters. elementarymatters@gmail.com
♦ If you like what you see here, see my social media HERE.
Report this resource to TPT
Standards
to see state-specific standards (only available in the US).
Ask and answer questions to help determine or clarify the meaning of words and phrases in a text.
Determine the meaning of words and phrases in a text relevant to a grade 2 topic or subject area.
Determine the meaning of general academic and domain-specific words and phrases in a text relevant to a grade 3 topic or subject area.