Heart and Cardiovascular System Boom Cards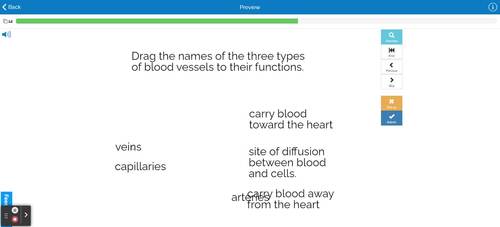 ;
Compatible with Digital Devices
The Teacher-Author has indicated that this resource can be used for device-based learning.
Also included in
20% off this bundle of 4 resources to review, reinforce, and assess the parts of the cardiovascular system:29 Boom digital flash cards (no subscription necessary)25 question self grading Google Forms quizcolor by number printable PDFPDF printable crossword puzzle

Price $5.76

Original Price $7.20

Save $1.44

This 20% off bundle includes 12 Boom card decks - one for each of the human body systems:integumentary systemdigestive systemskeletal systemmuscular systemurinary systemmale reproductive systemfemale reproductive systemlymphatic systemnervous systemrespiratory systemcardiovascular systemendocrine sy

Price $20.32

Original Price $25.40

Save $5.08
Description
This 29 card Boom deck can be used to learn, review, and reinforce the parts of the cardiovascular system including the heart, blood, and blood vessels.

Playable preview here - https://wow.boomlearning.com/deck/q-4GSvRL6cXwvjc6PX3?ref=tpt

Boom Cards are digital, self-grading flashcards that students use to review a skill.
When you purchase this product, you will receive the url to redeem your purchase.

In order to use Boom Cards, there are the following system requirements:

To use Boom Cards, you must be connected to the Internet. Boom Cards play on modern browsers (Chrome, Safari, Firefox, and Edge). Apps are available for Android, iPads, iPhones, and Kindle Fires. For security and privacy, adults must have a Boom Learning account to use and assign Boom Cards. You will be able to assign the Boom Cards you are buying with "Fast Pins," (play provides instant feedback for self-grading Boom Cards). Fast Play is always a free way for students to engage with Boom Cards decks. For additional assignment options you'll need a premium account. If you are new to Boom Learning, you will be offered a free trial of our premium account. Read here for details: http://bit.ly/BoomTrial.
You may be eligible for a free trial from Boom Learning. Read here for details: http://bit.ly/BoomTrial. If you choose not to stay on a premium account after your free trial, you will still be able to assign all your Boom Cards to as many students as you see fit using Fast Play pins (which give instant feedback for decks that are self-grading).
Other Human Anatomy Boom Cards:
Get Free Products by earning TPT credits! Earn TpT credits which can be applied to future purchases by rating and leaving a comment on this product after your purchase.
Teaching Duration
40 minutes
Report this resource to TPT