Heat Transfer Convection Currents Experiments PRINT and DIGITAL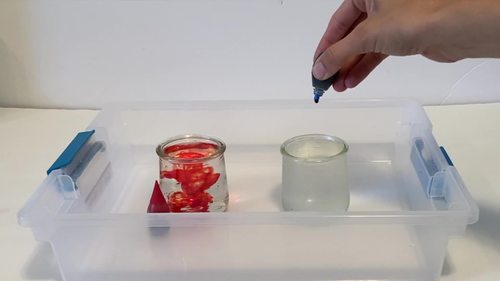 ;
PDF

Google Apps™
Includes Google Apps™
The Teacher-Author indicated this resource includes assets from Google Workspace (e.g. docs, slides, etc.).
Description
This activity explores heat transfer and thermal energy, especially convection currents. It focuses on how the density of water changes based on whether it is hot or cold and explains convection currents on a molecular level. This resource walks students through 2 simple science lab experiments that demonstrate this exciting heat phenomenon! It includes:
teacher directions, discussion questions, and extension activities
11 pages of background information about thermal energy, types of heat transfer (radiation, conduction, and convection), and the density of water
14 pages of student directions, walking them through the experiment step-by-step with photographs and videos
a student response worksheet
a scoring rubric
a force copy link to a digital Google Slides version
Please follow my store here for more great resources!
You can also find me on Facebook, Instagram, and lafountaineofknowledge.com where you'll discover ideas, inspiration, and plenty of freebies! Or join my email list to get a monthly newsletter with exclusive FREE resources you can't get anywhere else!
Want free money to spend on Teachers Pay Teachers? Rate this product to earn some TpT credit! Leaving feedback helps us both out and takes less than a minute! Your support makes it possible for me to continue making and sharing great resources! Thank you!
Credits: Graphics are by , sourced via Pixabay and used with permission. The background is by , sourced via Pixabay and used with permission. All photos and videos were taken by Shea LaFountaine of LaFountaine of Knowledge. The border on page 28 was created by and used with permission. Fonts used include: Amatic SC by Vernon Adams and Coming Soon by Open Window. Fonts used with permission under open source licenses.  
Report this resource to TPT
Standards
to see state-specific standards (only available in the US).
Make observations and measurements to identify materials based on their properties. Examples of materials to be identified could include baking soda and other powders, metals, minerals, and liquids. Examples of properties could include color, hardness, reflectivity, electrical conductivity, thermal conductivity, response to magnetic forces, and solubility; density is not intended as an identifiable property. Assessment does not include density or distinguishing mass and weight.
Apply scientific principles to design, construct, and test a device that either minimizes or maximizes thermal energy transfer. Examples of devices could include an insulated box, a solar cooker, and a Styrofoam cup. Assessment does not include calculating the total amount of thermal energy transferred.
Make observations to provide evidence that energy can be transferred from place to place by sound, light, heat, and electric currents. Assessment does not include quantitative measurements of energy.
Undertake a design project to construct, test, and modify a device that either releases or absorbs thermal energy by chemical processes. Emphasis is on the design, controlling the transfer of energy to the environment, and modification of a device using factors such as type and concentration of a substance. Examples of designs could involve chemical reactions such as dissolving ammonium chloride or calcium chloride. Assessment is limited to the criteria of amount, time, and temperature of substance in testing the device.