Hebrew Word & Prayer Bank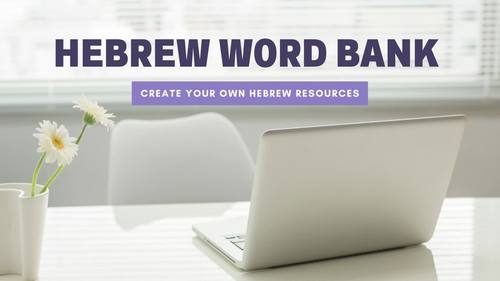 ;
PDF

Google Apps™
Includes Google Apps™
The Teacher-Author indicated this resource includes assets from Google Workspace (e.g. docs, slides, etc.).
Description
Creating Hebrew vocabulary lists, personalized siddurim, and worksheets with the necessary vowels is tedious and time-consuming. With this Hebrew Word Bank and Prayer Bank, you can ditch the Hebrew keyboard. You'll just copy and paste words and phrases onto your doc.
This convenient collection includes thousands of Hebrew words with their vowels and translations. They are neatly categorized according to modern Hebrew vocabulary, Jewish life vocabulary, targeted reading practice, root words, and much more!
Are your students struggling with the cholam vowel or a final Hebrew letter? Head to the "targeted reading practice" tab for lists of words with specific letters and vowels.
Looking for prayer words, Jewish life vocabulary, or modern Hebrew vocabulary? Create your own lesson plans in a matter of seconds.
Today, most of my lesson plans are created by copying and pasting words from this word bank. As I create new lesson plans, I add new vocabulary words to this growing spreadsheet, which you will have access to after a one-time purchase.
You'll receive a second spreadsheet with prayers and their translations. Check out the complete list ahead.
Want to create your own classroom siddur or Junior Congregation program? No problem! The Hebrew prayer bank includes the text and English translations to a growing list of prayers.
The video preview will show you what's inside.
1. Hebrew Word Bank
Formatted as a Google spreadsheet, the Hebrew Word Bank includes over 1000 Hebrew words (and counting!). Modern Hebrew vocabulary words are conveniently organized into categories.
Spreadsheet Doc 1: Modern Hebrew Vocabulary with vowels and English translation
pronouns
possessive pronouns
prepositions
greetings
school supplies
family members
question words
foods
Jewish Life Vocabulary
targeted reading practice
over 100 roots
and more!
2. Spreadsheet Doc 2: Hebrew Text with vowels and the translation to over 20 prayers
You'll also receive a second spreadsheet with the text, vowels, and their English translations. Create a siddur project, Bnai Mitzvah prep, and Tefillah Lesson plans in physical and distance settings.
Brachot included:
The various types of food/drink blessings.
The Shabbat blessings
The 4 Questions
Barchu
Yotzer Or
Shema
Mi Chamocha
Avot V'Imahot
G'vurot
Kedushah
V'ahavta
Ki Mitzion
Aliyah Prayers
Haftarah Prayers
V'Zot Hatorah, Ein Kamocha
Aleinu
and more!
• Hebrew Vocabulary Handouts
• Alef-Bet Reference Strips
• Alef Bet Classroom Starter Pack
• Alef Bet Hebrew School Certificate
• Alef-Bet Reference Tools Bundle
• Ask it in Hebrew! Question Labels
• Hebrew Classroom Supplies Bundle
• Hebrew Classroom Supplies for the Academic Year
• Hebrew Months and Weekday Labels
Get a FREE Hebrew game when you SUBSCRIBE to Alef Bet Games for the latest content, freebies, and special offers.
Report this resource to TPT