Hexagonal Thinking: One Pagers (for any novel)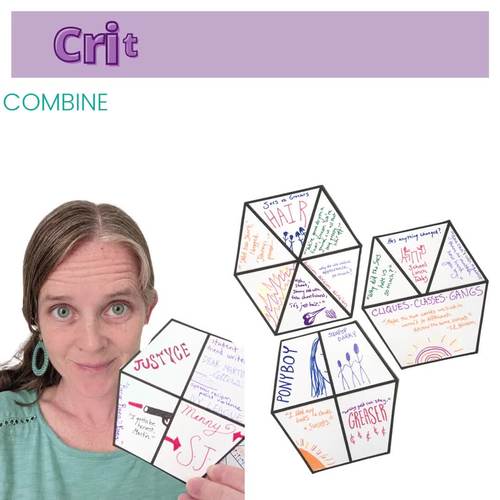 ;
What educators are saying
I use this time and time again when I want students to make connections during novel units. Such a great way to formulate and encourage linear thinking and broaden the scope of their comprehension!
My students loved using these organizers for sketchnotes for our social studies unit. So versatile. I can't wait to use it again and again.
Description
Hexagonal thinking is a creative way to get students making connections. BUT, it's a lot of work for you, as the teacher, to create and cut out dozens of hexagons for your students to connect, arrange, and discuss.
Why not get the students brainstorming and designing their own hexagons with hexagonal one-pagers?
In this activity, groups of students use critical thinking, close reading, and design skills to create hexagonal one-pagers for characters, style elements, connections to the world, connections to other other works, themes and symbols.
(By the way, need a quick primer on hex thinking? Check out this video I collaborated on with Edutopia for the two minute class).
What's inside:
Templates for large size and mini hexagonal one-pagers
Connecting arrows students can fill in and put up
Easy directions for one-pagers of both sizes
Photo examples of both sizes
As the students complete and cut out their hexagons, another level of deep thinking and collaboration begin. Students work together to connect the cards on the floor, adding in connection arrows that explain why they made certain key connections. As they finalize their design, students begin to move the final product to the wall, ending up with a beautiful display representing their own critical thinking.
Check out the preview video to see hexagonal thinking one-pagers in action!
From the Reviews:
"An excellent way for students to push themselves to think further. Kids worked well together to find more ideas and realized they could get much more out of their discussions. "
"...I used this with adult learners to help them connect the big ideas of a standard we were analyzing. It worked well and forced the teachers to really think about how standards are connected. "
"I love this resource!!!!!! It creates collaboration, but can also be used independently."
Looking for more hexagonal thinking resources? Find them all here.
Questions? I'm at betsy@nowsparkcreativity.com.
Report this resource to TPT
Standards
to see state-specific standards (only available in the US).
Cite strong and thorough textual evidence to support analysis of what the text says explicitly as well as inferences drawn from the text.
Determine a theme or central idea of a text and analyze in detail its development over the course of the text, including how it emerges and is shaped and refined by specific details; provide an objective summary of the text.
Analyze how complex characters (e.g., those with multiple or conflicting motivations) develop over the course of a text, interact with other characters, and advance the plot or develop the theme.
By the end of grade 9, read and comprehend literature, including stories, dramas, and poems, in the grades 9-10 text complexity band proficiently, with scaffolding as needed at the high end of the range.By the end of grade 10, read and comprehend literature, including stories, dramas, and poems, at the high end of the grades 9-10 text complexity band independently and proficiently.
Draw evidence from literary or informational texts to support analysis, reflection, and research.