Hispanic Heritage Month | Famous Faces® Collaborative Poster w/ Cesar Chavez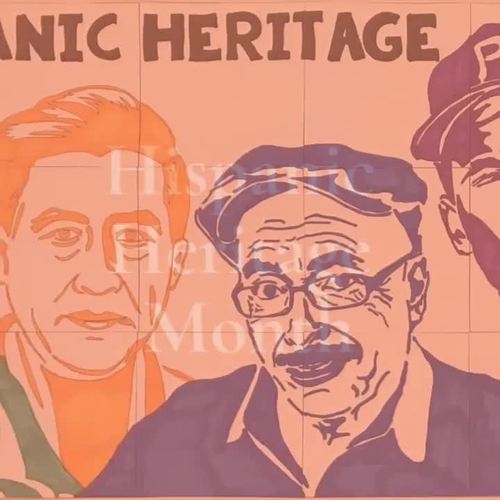 ;
What educators are saying
A beautiful resource for Hispanic heritage month. Students were able to show their creativity and learn about some Hispanic icons. Thanks for making an easy to use resource!
My students found this so interesting. They didn't know many of the people represented so it led to even more research.
Description
Hispanic Heritage Month Famous Faces® Collaboration Poster with quotes in English and Spanish. My art project is an excellent anticipatory activity meant as a supplement/complement to your Hispanic Heritage Month / Latinx Heritage Month units. Also works well for Cesar Chavez day!
This fun, collaborative activity features portraits of:
Selena Quintanilla
César Chávez
Juan Herrera
Roberto Clemente
Sonia Sotomayor
Diego Rivera
Frida Kahlo
Ellen Ochoa
All poster pages are included in English and Spanish.
Included are 8 quotes (one from each person) in English and Spanish.
*Please note, instructions are in English only.
Also included are the options to have the final poster say, 
"Hispanic Heritage" 
"Latino Heritage"
"Latinx Heritage"
This poster pairs with my Unscramble the Famous Faces® of Hispanic Heritage collaboration poster.
There are 2 poster options available–making this great for grades PreK–High School.
Poster option #1 has a color key to be printed in black and white and is great for older students.
Poster option #2 has the color key to print in color and is ideal for younger students.
Poster Details:
There are 3 rows and 12 columns for a total of 36 pieces (English & Spanish options included).
There are 8 quotes, included in Spanish and English (see the preview for quotes).
There are substitution pieces to have the poster say "Latino Heritage" or "Latinx Heritage" as alternative titles if you don't want the final poster to say "Hispanic Heritage."
The final poster is approx. 21" x 84" when complete. 
This poster is ideal for a large bulletin board or a hallway. 
Each poster piece fits on a standard 8.5" x 11" piece of paper. 
The colors you will need are green, blue, red, orange, purple, and yellow.
Famous People included:
Selena Quintanilla
César Chávez
Juan Herrera
Roberto Clemente
Sonia Sotomayor
Diego Rivera
Frida Kahlo
Ellen Ochoa
All of my collaboration posters are...
• easy for teachers
• fun for kids
…and make a lasting impression--on students, parents, and your entire school community!
Large and visually striking, this poster is the perfect accompaniment to your Hispanic Heritage Month lessons and makes for a great display in the…
• Front Office
• Auditorium
• Hallway
• Bulletin Boards
• In your classroom
No matter where it ends up hanging, it will engender unending compliments while proving a source of inspiration to your students and community!
The collaboration of this Hispanic Heritage poster makes such an impact without really having to say anything - every single piece of the poster matters - just as every child in the class matters. Your students will walk by and say, "I did that piece!" each time they see the poster. They take great pride in being part of this art project.
Differentiation is built into the design of this Hispanic Heritage activity. Some pages have more to color than others, so some kids will easily color two pages. You can use this to differentiate and provide the appropriate experience for each child to succeed and be part of the group.
*Note: If you plan to laminate this poster, don't use crayons because the heat from the laminator will often melt the wax from the crayons and ruin the poster.
2 Poster Options
I created 2 variations to make this as easy for you as possible. The final posters of BOTH are the same - the difference is the color key at the top – you do NOT need to print both poster options.
You have 2 options
Option #1: The first version of the poster has the with instructions and notes printed at the top telling the students exactly what they need to do on their page (see the preview for examples). You will need to print the page in black and white for this option.
Option #2: The second version of the poster has the . If you can print in color, please use this option. It will be easier for your students to know how their individual pieces of the poster should be colored. It's also beneficial for younger children who might not yet be able to read and will save you from running around the room reading the different instructions to the kids (see the preview for examples).
Options Included:
I have provided instructions for a few various options...
• How to make a mini-poster
• Background color options
• Quotes in English and Spanish
• "Latino/Latinx Heritage" or "Hispanic Heritage" poster options
This poster is part of my very popular Famous Faces® series, which includes:
Please click the "Follow Me" button on this page to keep updated on all my new offerings!
Thank you for supporting my work and infusing your classroom with art!
Jenny K.
***************************************************************************
Let's Connect
***************************************************************************
Sign up HERE to join my mailing list, and I'll send you my kindness coloring sheets as a 'thank you.' I love to spoil my e-mail subscribers by sending exclusive freebies, tips, and tricks, as well as special announcements of sales–not to mention that after you join, you'll get invited to my "Subscribers Library" of freebies. 
**************************************************************************
TERMS OF USE:
The purchase of this product is for one license and is for PERSONAL USE ONLY.
©Copyright 2017/2022 Art with Jenny K.® ALL RIGHTS RESERVED. Permission is granted to copy pages specifically designed for student or teacher use by original purchaser or licensee. The reproduction of any part of this product is strictly prohibited. Copying any part of this product and/or placing it on the internet in any form (even a personal/classroom website) is strictly forbidden. Doing so is a violation of the Digital Millennium Copyright Act (DMCA).
**************************************************************************
If you like my work, please help me keep the price low by purchasing additional licenses for any teacher you would like to share this lesson with. Extra licenses are discounted.
Report this resource to TPT