Hispanic Heritage Month - Famous Hispanic for Each Day - Digital Calendar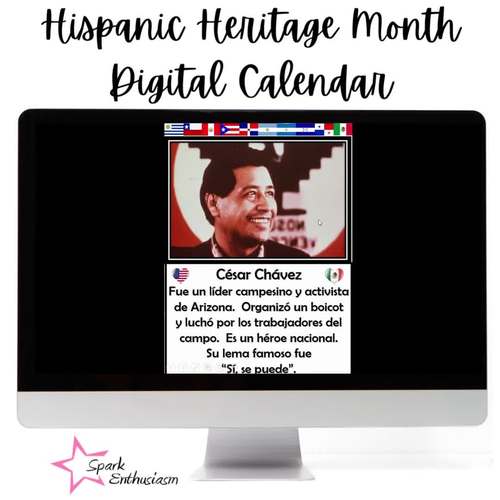 ;
7

th

- 12

th
,
Higher Education
,
Adult Education
,
Homeschool
Zip

Google Apps™
Includes Google Apps™
The Teacher-Author indicated this resource includes assets from Google Workspace (e.g. docs, slides, etc.).
Also included in
This Spanish Hispanic Heritage Month BUNDLE features a digital daily calendar with both Power Point and Google Slides Presentations included. Also included are videos with activities, articles & readings with comprehension questions about El Mes de la Hispanidad, several worksheets, two movie u

Price $31.34

Original Price $48.96

Save $17.62
Description
This Famous Hispanics digital calendar BUNDLE features 21 iconic Famous Hispanics to teach students an entire unit about Latino pride, the impact Hispanics have had on the world, and heroes. This Interactive Activity for Spanish Class is updated annually! **New - Google Slides Presentation is included as well as the Power Point and printable worksheets!
Mes de la Herencia Hispana - RESOURCES
This NO PREP Famous Latinos BUNDLE has 64 slides, 12 pages of note-taking worksheets, four quizzes in Spanish, and a list of 65 videos about Hispanic Heritage Month and the Famous Hispanics included in this packet!
Just click on the day on the calendar and the daily lesson about an iconic Spanish speaker appears!
Includes biographical information, famous quotes, and many videos about each of the included icons. This unit ties in with social justice themes nicely!
There are at least two videos for each of the featured famous Latinos to extend student learning. Just click on the heart on the right hand side of the QUOTE slide for each famous Latino to return to the daily calendar.
Visit our website to see all of the Hispanic Heritage Month Calendar Videos in one place!
This calendar unit includes actors, notable Spanish speakers, singers, writers, leaders, athletes and additional iconic figures. This presentation is perfect for Hispanic Heritage month and it can even be printed and used as a bulletin board!
Included Famous Hispanics are: César Chávez, Papa Francisco, Kate del Castillo, Luis Fonsi, Juan Manuel Santos, Dolores Huerta, Shakira, Enrique Iglesias, Luis von Ahn, Carolina Herrera, Albert Pujols, Michelle Bachelet, Christiana Figueres, Zoe Saldana, Lin-Manuel Miranda, Juanes, Chyno Miranda, Sonia Sotomayor, Diego Luna, Rey Felipe VI and Lionel Messi.
This cultural unit includes a Power Point presentation and a Google Slides Presentation that have a calendar for each day of the month so students can learn about a different famous Hispanic each day! This is the perfect no-prep resource for Spanish 2, Spanish 3, AP Spanish and IB Spanish teachers!
Teachers can also use this wonderful product in numerous other ways:
~ Bulletin board - Classroom decorations
~ Listening comprehension builder
~ Interactive speaking activity where students walk around the room with one of the famous Hispanics descriptions and ask and answer questions such as "What is your name?", "Where are you from?", "When is your birthday?", "Why are you famous?", etc.
~ Famous quotes discussion starters
~ Journal writing to respond to various quotes by the Latinos famosos
~ Warm-up and bell ringer activities
~ Hispanic Heritage month activities
~ Heroes Unit for AP Spanish or IB Spanish class
~ Cultural comparisons or cross curricular projects
For each Famous Hispanic person, there is a nationality speaking slide with their flag(s) from their country,a slide with more detailed information and higher level Spanish, biographical videos in Spanish and English, and then a quote for each person. latinos famosos orgullo hispanos artistas cantantes iconos mes de la herencia hispana atletas
*This product will be updated every year so re-download it to get the newest version at the beginning of each school year! Updated in June 2022!*
This series of lessons is useful for anyone who is teaching face-to-face in a classroom, online Spanish, a flipped classroom or those that are affected by the cancellation of school due to unforeseen circumstances such as the Coronavirus.  Distance learning Online Spanish class Elearning Virtual Spanish lessons
View NUMEROUS Famous Hispanics resources HERE! AWESOME FAMOUS HISPANICS RESOURCES!
VIEW this amazing video! AMAZING FAMOUS LATINOS VIDEO!
See all of our most popular and best seller games!
Spark Enthusiasm Spanish and Hispanic Culture and Holidays!
Spark Enthusiasm Spanish Grammar, Vocabulary and AP Spanish resources
ALL of our movie packets with tons of resources are here!
ALL sparkenthusiasm movie guides
Let's connect! We would love to hear from you!
Have a great school year!
Report this resource to TPT