Hocus Pocus Lab Halloween Dramatic Play Center Activities and Games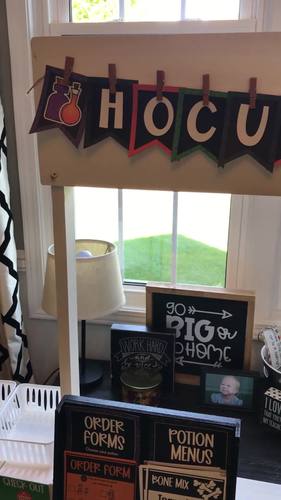 ;
Description
Who doesn't love Fall and all the fun things it brings. Charlie LOVES Halloween and so do my first graders. Why not embrace the fun with loads of learning? This hocus pocus lab was designed for your students to create their own recipes, follow recipes or simply shop at the store. I am a first grade teacher and YES, I would put this in my classroom. First graders still need to play! Not only is this goody a dramatic play tool kit, but it also offers center extensions, open ended activities, a few multi-level math activities and games and step by step directions on how I made the pieces I used in this design. If you don't have a fancy stand, don't worry! You can easily set this up on a bookshelf and/or counter space. This set includes the labels shown in the preview. It also includes pictures with directions. There are two different crafts a cauldron and a potion bottle, several math games are included that have two different learning levels, and loads of writing extensions. There is also an editable powerpoint to customize your menus and order forms. Print it all or pick and choose what you want. I hope you enjoy this as much as my Charlie girl and I are going to this October.
READ ABOUT THIS DRAMATIC PLAY HERE!
You may also like my
JOIN MY GROUP CONNECT & COLLABORATE ON FACEBOOK.
Some other fun ways to connect....
©Megan Mitchell
Report this resource to TPT
Standards
to see state-specific standards (only available in the US).
Count to 100 by ones and by tens.
Count forward beginning from a given number within the known sequence (instead of having to begin at 1).
Write numbers from 0 to 20. Represent a number of objects with a written numeral 0-20 (with 0 representing a count of no objects).
Use addition and subtraction within 20 to solve word problems involving situations of adding to, taking from, putting together, taking apart, and comparing, with unknowns in all positions, e.g., by using objects, drawings, and equations with a symbol for the unknown number to represent the problem.
Add and subtract within 20, demonstrating fluency for addition and subtraction within 10. Use strategies such as counting on; making ten (e.g., 8 + 6 = 8 + 2 + 4 = 10 + 4 = 14); decomposing a number leading to a ten (e.g., 13 - 4 = 13 - 3 - 1 = 10 - 1 = 9); using the relationship between addition and subtraction (e.g., knowing that 8 + 4 = 12, one knows 12 - 8 = 4); and creating equivalent but easier or known sums (e.g., adding 6 + 7 by creating the known equivalent 6 + 6 + 1 = 12 + 1 = 13).