Holiday Music Lesson: "Jingle Bells" Orff, Guitar, Keyboard, Printables, Mp3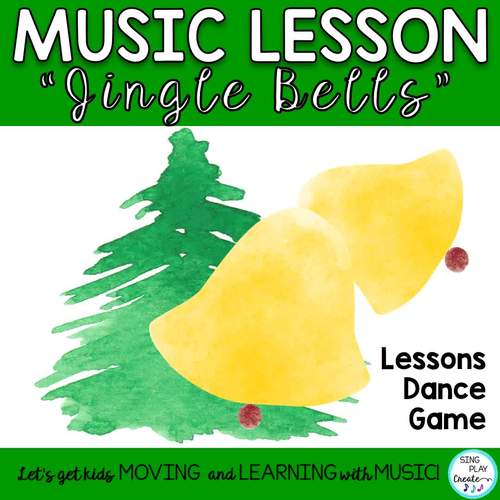 ;
Description
Sing and Play this classic holiday song "Jingle Bells" in your elementary music class during December Orff style. Students will love the Dance, Orff Arrangement, guitar chords, and sheet music for your December Lessons K-6. Music Class students will have fun dancing and playing the games too! Easy Ink Printing too! Grades 2-6
CONCEPTS:
Practice Dotted Half, Half Notes, Dotted Quarter, Eighth, Quarter Notes.
Play Ostinato
Play Chords G C Am D D7
Play Melody, Bass
RESOURCE INCLUDES:
Sheet Music and Teaching pages for:
NOTE NAMES
MELODY
BASS
Rhythmic Ostinato (2 patterns)
Guitar Chords
LESSON PLANS for 3-6 activities
GAMES AND DANCES
Teaching presentation Power Point and PDF files
Audio Practice Mp3 Music Tracks for each part and the Orff Arrangement (no vocals)
USE THIS RESOURCE
This is a fun new way to engage them in learning note names, Ostinato Rhythm patterns and Chords on Guitar or Xylophones.
Kinder and First Graders will love the Rhythmic Ostinato teaching pages. Which instrument will I play? Have them choose and divide the class into 3 or 4 groups for 3 different variations-or switch between the parts. Sing and Play along with the Mp3 Piano Accompaniment!
Perfect for Grades 2-6
Print the melody and bass parts and let them work in small groups. Add in the rhythmic ostinato parts and put together after 2-3 lessons.
Play the Games and Dances.
Sing a long with the Mp3 Piano Accompaniment.
Need a sub lesson?
Your sub can use the Mp3 Piano accompaniment for students to play the games and sing along.
MORE HOLIDAY MUSIC RESOURCES
***********************
ABOUT SING PLAY CREATE LLC.
All products and works are copyrighted by Sing Play Create LLC. Buyers may get Free store credit by going to "my purchases" and click on "Provide Feedback". Ratings and helpful feedback are welcomed.
QUESTIONS? Please use the "Ask a Question" section of my TpT store. Or, you can email me at sandra@singplaycreate.com
CONNECT WITH ME HERE:
Thanks for stopping by!
Sandra
Report this resource to TPT