{Holiday Themed} Story Grammar Sort & Tell BUNDLE Narrative Generation No Prep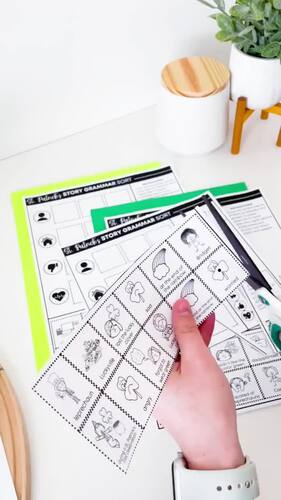 ;
Products in this Bundle (11)
showing 1-5 of 11 products
Description
Ready to target narrative langauge and story grammar with these no prep, year-round holiday themed story grammar worksheets?
This resource currently includes:
Chinese Lunar New Year (COMING SOON)
New Years (COMING SOON)
Valentines (COMING SOON)
St. Patrick's
Easter
Patriotic
Halloween
Thanksgiving
Hanukkah (COMING SOON)
Christmas
New Years (COMING SOON)
Birthday (COMING SOON)
This resource is designed to support identification of story grammar elements and narrative generation.
Each set of one page worksheets are designed to be both effective and efficient. Choose your page, print and go! One page covers your entire session (and more)! Cut out the square pieces at the bottom of the sheet. Sort them based on story grammar element. Glue if desired. Then mix and match elements to create your own story! Coloring is optional.
Each resource includes:
3 unique STORY GRAMMAR SORT worksheets
one sheet with all (36) story icons
one large sorting mat
set the scene story frames
full story story frames
PLUS
a detailed suggestions for use pages
story grammar reference sheet
story grammar explained
printing instructions
Use these worksheets in session or send them to the classroom or home for additional practice to facilitate generalization!
Each worksheet has 12 square icons that represent examples of story grammar
elements. The following story grammar elements are represented:
character
setting
problem
feeling/emotion
Each worksheet has 3 examples of each element.
Once sorted, it is recommended that the student use a combination of the provided elements to "set the scene" for their own story. They are then encouraged to include the following the complete the story on their own:
attempt(s)
consequence(s)
ending
end feeling
This allows the student to practice problem solving skills by coming up with their own ways to fix the problem (attempts).
Report this resource to TPT