Holidays Around the World | Christmas Around the World | Christmas Activities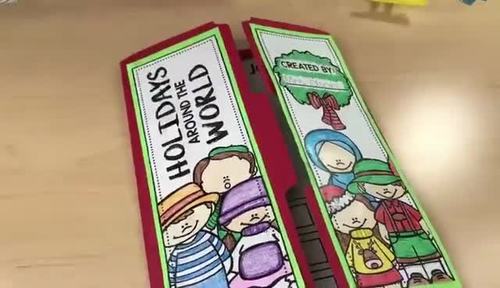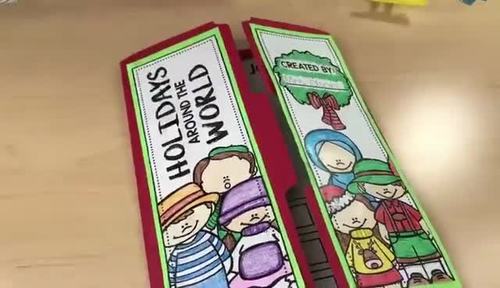 Created By
Lucky Little Learners
Also included in:
Lapbooks All Year is a great, hands on resource that will take you through the entire year. Lapbooks are a fun and unique way to dive deep into a variety of topics all while providing your students with the opportunity to prove their evidence of learning through writing. These make great keepsakes
Product Description
Christmas Around the World Bundle (UPDATED ON 11/19/18)
Teach your students about how other countries celebrate the Christmas season through this lapbook and research fact sheets.
Countries/Celebrations included in this bundle:
-USA
-Hanukkah
-Kwanzaa
-England
-France
-Germany
-Russia
-Italy
-Canada
-Mexico
-Sweden
-Australia
-Netherlands
-Diwali
-Chinese New Year
-Brazil
-Ireland
-Japan
-Egypt
The Chrismtas Around the World Lapbook includes:
-Cover page
-19 interactive flip books to write about each country's Christmas food, Santa, tradition, and fact
-World map and country checklist (2 versions)
-Passport holder pocket
-19 passport stamps for each country
-Comprehension quest sheets for each country/celebration
This file also includes photos and directions of how to assemble the lapbook.
The Christmas Around the World Research includes:
-Foods and drinks that are popular for each country
-Paragraph about the Santa version for each country
-Paragraph about family traditions for each country
-Paragraph about other Christmas facts for each country
-Fact sheets come in full color and black and white. Cover pages for the optional book also come in full color or black and white.
*UPDATE: All passages now include a comprehension question sheet!
The research that is done with the fact sheets can be used to complete the lapbook. Both resources are designed to be used interchangeably with each other.
Fact sheets are great for whole group discussion, guided reading, close reading, independent reading, or partner reading.
Note: Some of the countries include a fact about the connection between Christmas and their religious beliefs.
*Download the preview file to see exactly what is included in this product. If you have any questions, please email me at angie@luckylittlelearners.com
▼▼▼▼▼▼▼▼▼▼▼▼▼▼▼▼▼▼▼▼▼▼▼▼▼▼▼▼▼▼▼▼▼▼▼▼▼▼▼▼▼▼▼▼
If you would like to get updates on NEW and CURRENT resources...
►SIGN UP to receive weekly email freebies!
►FOLLOW me on Teachers Pay Teachers!
►FOLLOW the Lucky Little Learners Blog!
▼▼▼▼▼▼▼▼▼▼▼▼▼▼▼▼▼▼▼▼▼▼▼▼▼▼▼▼▼▼▼▼▼▼▼▼▼▼▼▼▼▼▼▼
Copyright © Lucky Little Learners, LLC.
All rights reserved by author.
Permission to copy for single classroom use only.
Electronic distribution limited to single classroom use only.
Not for public display.
If you have any questions about this resource, please contact me at customerservice@luckylittlelearners.com
Report this Resource to TpT