Holidays Around the World - Christmas Around the World Math Centers First Grade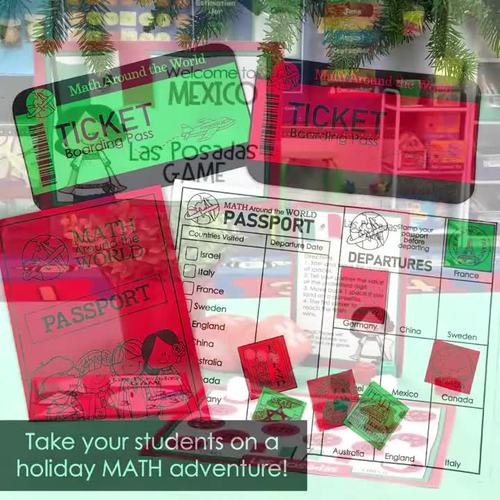 ;
What educators are saying
I have been teaching Christmas around the World for years. This resource was a wonderful addition to include because it was Math focused! Will be using again and again!
My students loved that it aligned with what we were learning in reading and thought that having different country math centers was so different than what they are used to. Definitely recommend.
Description
This resource includes 12 engaging Christmas holidays around the world themed math centers for first grade. Also available for second grade HERE and third grade HERE.
Add math to your holiday activities or better yet, have a Holidays Around the World math party! Set up each center with its destination poster and have your students travel around the room to complete engaging math tasks!
These highly engaging centers include a fun "mathport" and boarding pass for students to record and stamp their math passport before they "depart" each center. Each of the 12 centers includes a destination poster, easy to read directions, task cards, game board, student recording pages, and self-checking answer keys. All materials are included in color and black and white.
Skills covered:
Place Value
Number Patterns
Comparing Numbers
Addition & Subtraction
2-Digit Addition
Solving Word Problems
Adding & Subtracting on a number line
Adding Tens & Ones
Please see the preview for more details and photos.
Happy teaching!
Linda Kamp
Around the Kampfire
Additional holiday resources for first grade:
Christmas Break Countdown Activities & Student Gifts
Comparing Versions of The Gingerbread Man Literacy Unit
The Gingerbread Man Loose in Our School Class Book & Craft
Gingerbread Math Graphing Project
Gingerbread House Paper Bag Craft
Report this resource to TPT
Standards
to see state-specific standards (only available in the US).
10 can be thought of as a bundle of ten ones - called a "ten."
The numbers from 11 to 19 are composed of a ten and one, two, three, four, five, six, seven, eight, or nine ones.
The numbers 10, 20, 30, 40, 50, 60, 70, 80, 90 refer to one, two, three, four, five, six, seven, eight, or nine tens (and 0 ones).
Compare two two-digit numbers based on meanings of the tens and ones digits, recording the results of comparisons with the symbols >, =, and <.
Add within 100, including adding a two-digit number and a one-digit number, and adding a two-digit number and a multiple of 10, using concrete models or drawings and strategies based on place value, properties of operations, and/or the relationship between addition and subtraction; relate the strategy to a written method and explain the reasoning used. Understand that in adding two-digit numbers, one adds tens and tens, ones and ones; and sometimes it is necessary to compose a ten.