Holidays Around the World Christmas Escape Room Printable and Digital Activity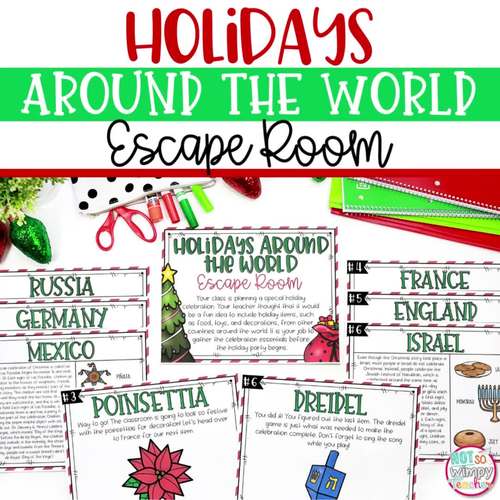 ;
PDF

Google Apps™
Includes Google Apps™
The Teacher-Author indicated this resource includes assets from Google Workspace (e.g. docs, slides, etc.).
What educators are saying
This is a wonderful resource for the Christmas season. My students loved learning about how other countries celebrate this joyous holiday. I look forward to using it again this year! Thank you.
Another great hit by Not So Wimpy. This was a very fun activity for my students to complete right before the winter holiday! I will be using it annually!
Description
LOVE this! My students had to really think while completing this last year...and considering how well their brains were working right before break, I LOVED it too! Can't wait to use it again. - Aillison Y, 4th Grade
OMGosh!! This is awesome. It is totally worth it! Self-explanatory, has instructions embedded in the slides, very much a student-led activity. Thank you for making it! - Sarah S. 
This Holidays Around the World Escape Room is the perfect no-prep activity to help your students strengthen reading comprehension skills and learn about different cultures' holiday traditions during the month of December. This escape room provides tons of informational text and learning opportunities, BUT your class will be having so much fun solving the puzzles, that they won't even notice they're working!
Take your class on a virtual world tour as students help prepare for the school's holiday celebration. Students will be working to collect 6 different holiday items (decorations, food, toys, etc) from 6 different countries: Russia, Germany, Mexico, France, England, and Israel to create a multicultural holiday event. As they virtually travel the globe, they will learn about the different cultures and traditions of each country and be exposed to new vocabulary. 
Students will love learning about different holiday traditions while they try to decipher a series of clues and codes to figure out which items to bring to the holiday celebration. And you will love how easy this escape room is to set up and use in the classroom.
This holiday activity, designed for grades 2-5, challenges students to use their problem-solving and communication skills to figure out solutions and keeps them engaged in learning right up until winter break. Audio is included on each teaching slide to make it easy for younger students or struggling readers to complete independently.
What's Included:
Printable PDF version of the escape room 
Digital escape room slides with movable and fillable parts (Google Slides and PowerPoint)
Detailed teacher directions include how to download the resources, how to use it in the classroom, and a video explanation
Google Form for students to submit their responses and self-check their work 
Audio on each teaching slide
Answer key
How to Use in the Classroom:
Check out how easy it is to use this escape room in the classroom! 
Printable version:
Complete as a whole class: project each slide on the whiteboard and give students a printable copy to follow along.
Students can work individually, as partners, or in groups. 
Print off all the task cards, laminate them (or put them in sheet protectors) and place them in an envelope. Students will need a dry-erase marker to write on some of the task cards. Then label the envelope with the correct task number. 
Small Groups: Make multiple copies and envelopes using the same instructions above.
Use as part of your class holiday party to keep the focus on learning
Place countries in centers around the room
Digital version:
If your classroom has 1:1 devices, choose the digital version to reduce photocopying and paper
This is an easy no-prep option!
Kids love using technology and this is a great educational activity to complete online
Use Google Slides with Google classroom: students can work independently or with a partner and submit their answers electronically through a Google form
Use the PowerPoint version to assign the slides through other learning management platforms like Schoology, Canvas, etc.
This activity will take between 45-60 minutes depending on the grade level of your students and if they are using the audio feature or reading the text independently. 
Another great option is to spend 10 minutes a day, covering one country each day.
Differentiation:
Use in small groups at the teacher table to help guide struggling students through the readings
Audio is included on each teaching slide: when students press on the audio button, they will have the slides read to them. This added feature is awesome for younger grades as well as your struggling readers.
*  You may want to check with your school's IT department beforehand to ensure that students are permitted to have access to linked audio from drive files outside of your school domain. This will determine if the audio will work for your students in Google Classroom
❤️ ❤️ Why You'll Love It: ❤️ ❤️
Simple to prep and use in the classroom
Engaging and educational - keeps the learning going strong until winter break
It's a unique holiday activity - not the same thing you've done year after year
Inclusive with a variety of winter celebrations
Audio on every slide makes it super easy to differentiate
FAQs:
Q: How much time will it take for students to complete this activity?
A: This activity will take around 45 minutes to an hour depending on the grade level of your students and if they are using the audio feature or reading the text independently. Another great option for time duration is to spend 10 minutes a day by covering one country each day.
Q: On what platforms can I use this resource?
A: You can share this escape room easily on several different platforms making this a zero-prep virtual resource!
Assign the PowerPoint slides through platforms such as Canvas, Schoology, and Teams, where students can complete the activities independently.
Assign the Google slides through Google Classroom and have students complete the activity independently.
Assign students into breakout groups to complete the escape room as a team digitally. 
Q: Which core subjects are covered in this escape room?
A: This escape room features lots of reading informational texts. It's also a great way to discuss geography and history.
Q: Which holiday traditions are covered in the escape room?
A: Students learn about Christmas and Hanukkah traditions in Russia, Mexico, Israel, England, Germany, and France.  
Related resources:
Christmas Activities for Math, Reading, Writing & STEM
Looking for more holiday fun in the classroom? How about an entire week of holiday-themed activities for math, reading, writing, and even a STEM project? This resource geared for grades 2-5 will transport your class to a Christmas Tree Farm with 40 different activities that include critical thinking, problem-solving, and creativity. This no-prep, easy-to-differentiate resource has five festive days of done-for-you lesson plans that students will love!
Report this resource to TPT