Holidays Around the World Crafts & Research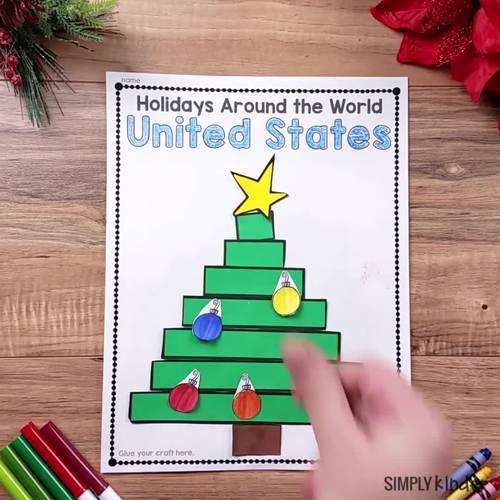 ;
What educators are saying
This was exactly what I needed. I teach 3 grade levels in the same room and every student was able to access the information. They loved making the crafts too. Thank you!
Love Love Love this product. So many places to choose from and so many options for writing activities.
Description
Holidays Around the World Crafts & Research
Get this BUNDLE part of a BIGGER BUNDLE and SAVE:
Research, Report & Craft Bundle (includes topics for the whole year!)
INCLUDED IN THIS DOWNLOAD IS:
CLOSE READING PASSAGE where students can take notes on what is heard or read.
Graphic Organizers to collect ideas and plan writing.
Several paper options to write reports.
One craft with two options - one the kids print and color and another printed on construction paper and assembled.
Coloring page for each country if you decide not to do the craft (or do both).
Full-size sample photo of each craft.
Units come with "Christmas Around the World" and "Holidays Around the World" headers. You pick which works best for you.
America also includes two options in the close read passage. One about American Christmas traditions and the other about how America is diverse and includes many different holiday celebrations.
COUNTRIES CURRENTLY INCLUDED:
America
Israel
Australia
Sweden
Mexico
Canada
Brazil
England
Italy
France
Ireland
Greece
India
Japan
Norway
Germany
Any additional countries created will be automatically added.
Teaching Suggestions:
You can do each country individually or staple them into one giant report book.
Pick the pages you like for each country, assemble into a book and you have a unit that you just need to add books and/or YouTube videos.
You can also easily switch out crafts you like or insert activities into this book so it's all in one place!
Reviews from teachers:
⭐️ ⭐️ ⭐️ ⭐️ ⭐️ "This resource has so many great activities for different leveled learners. I like the leveled writing pages, but my kindergarten kids used the tracing pages for writing. I love all the fact pages to read with the class. There are lots of countries to pick and choose from to fit any unit!"
⭐️ ⭐️ ⭐️ ⭐️ ⭐️ "I love using this resource every Christmas! It really keeps my students engaged and they love learning about Christmas in other countries!"
⭐️ ⭐️ ⭐️ ⭐️ ⭐️ "My kids could not stop raving about these!!! They loved learning about each country's traditions, and would always ask "what's the next country?". It made our discussion on Christmas so much more meaningful, and different from the usual santa/gift giving narrative. So glad I purchased."
Please note: These files are large and therefore are accessible via Google Drive and Dropbox.
Check out these other CHRISTMAS SEASON resources:
Stay up to date with all things Simply Kinder:
✅ Get our emails with weekly FREEBIES, special offers, & teaching ideas
✅ Follow us on Teachers Pay Teachers
© Simply Kinder, LLC
For questions please email Hello@SimplyKinder.com.
Jennifer Kadar - Simply Kinder - Kindergarten - First Grade - Preschool
Report this resource to TPT