Holidays Around the World for Older Kids - Holidays Around the World Activities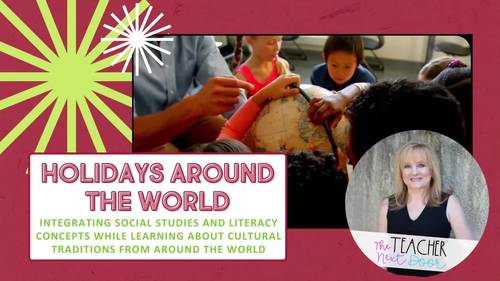 ;
Zip

Google Apps™
Includes Google Apps™
The Teacher-Author indicated this resource includes assets from Google Workspace (e.g. docs, slides, etc.).
Description
Want to keep your students engaged and learning during December? Here's what one teacher said about my Holidays Around the World for Older Kids: "Very engaging for my 3rd-5th graders, and perfect for the weeks leading up to Christmas break. There are so many resources here that I didn't even get to use all of them in class, but it was great because I could pick and choose what would be most meaningful for my students. I loved the research pages for students to do their own research on a country, and my students had a lot of fun with that!"
You'll love this multi-cultural PRINT and DIGITAL unit that allows you to integrate reading strategies and social studies concepts while learning about cultures and their traditions. With passages, maps, flags, and scrapbook pages, this ever-growing bundle is one you can use year after year!
It contains: (Print and Digital)
21 Tradition Passages with Comprehension Questions (Targets key reading skills)
Country Maps with Map Skills Questions (Lets you add geography naturally)
World Map and Flag Pages (More map skills!)
Scrapbook Pages to Record Important Cultural Tradition Facts (List key information here!)
Venn Diagram (For a simple to use compare and contrast
World Map
2 Student Booklet Covers
Detailed Teacher Notes (There are so many ways to use this unit!)
Teacher Notes for Digital with LINKS
Answer Keys
Materials for a Fun Trifold Country Research Project:
Double Sided Trifold Research Report Template (Students practice research skills)
Master List of Countries to Research
List of Suggested Websites for Research
Student Research Note Pages (3 of these)
Here are the Countries Covered:
1. Australia
2. Brazil
3. Canada
4. China (Lunar New Year) - Added 2021)
5. England
6. France
7. Germany
8. India (Diwali Added 2020)
9. Ireland
10. Israel (Hanukkah)
11. Israel (Passover Added 2021)
12. Italy
13. Japan
14. Mexico (Added 2017)
15. Saudi Arabia (Ramadan Added 2020)
16. South Africa
17. Spain
18. Sweden (St. Lucia's Added 2020)
19. United States (Added 2017)
20. United States (Kwanzaa Added 2020)
21. Russia (New Year's and Christmas Added 2021)
Why you'll love this resource:
Your students will enjoy learning about the culture and traditions of other countries!
It comes in print and digital for Google Classroom™ and can be used on many top educational platforms.
It's an easy way to incorporate social studies with reading.
There are more than enough materials here to use this EACH DAY in December!
It's a huge time saver as everything is print and go and the paperless version is ZERO PREP!
The Country Research Project gives students practice researching information and using technology to compile information.
You can do the entire book for reading time or jigsaw the information (small groups read a certain country's information and then share out). If you are short on time but have parent help, you can run the different countries as centers where students learn about the countries at each center.
If you're feeling especially ambitious, you can add art projects, music, artifacts to share (if you or the students have any), and food.
It can be used in a number of ways, for guided reading, center times, as independent reading, and even as homework.
Want to try a sample country? Here's a FREE print and digital mini-unit all about Italy!
Holidays Around the World for Older Kids: Italy FREEBIE
Looking for some art projects that compliment this unit? Here are 5 FREE Art projects your students will LOVE:
Holidays Around the World FREE Art Projects
Here are some great winter-themed resources you might enjoy:
Winter Paired Texts for 4th - 6th Grades
Winter Themed Language Task Cards Bundle
Finally, if you like my work, I would love for you to follow me by clicking on the green star at the top of the page.
Thanks so much!
Jenn
©The Teacher Next Door™
Purchasing this product grants permission for use by one teacher in his or her own classroom or for one homeschool parent teaching his/her child. If you would like to share with others, please purchase additional licenses.
This resource may only be placed on a password-protected website for your students, like Google Classroom™. It may not be placed anywhere else on the internet, on a class or school website visible to the public, or on a district server. Please email me if you have any questions: theteachernextdoor01@gmail.com.
Report this resource to TPT
Standards
to see state-specific standards (only available in the US).
Ask and answer questions to demonstrate understanding of a text, referring explicitly to the text as the basis for the answers.
Determine the main idea of a text; recount the key details and explain how they support the main idea.
Describe the relationship between a series of historical events, scientific ideas or concepts, or steps in technical procedures in a text, using language that pertains to time, sequence, and cause/effect.
Compare and contrast the most important points and key details presented in two texts on the same topic.
Refer to details and examples in a text when explaining what the text says explicitly and when drawing inferences from the text.