Home Safety Problem Solving - 60 Real Pictures + BOOM Cards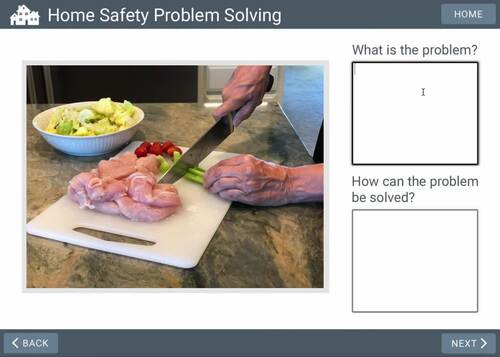 ;
6

th

- 12

th
,
Adult Education
What educators are saying
This resource was very useful for helping me teach home safety to my 3rd and 4th grade home economic class. Very easy to use and understand. Thank you.
It is extremely useful for adults students with disabilities who are trying to learn life skills, very helpful for teachers and caregivers.
Description
This resource contains 60 real, original photos of dangerous situations and safety hazards. These pictures can be used for identifying problems, predicting outcomes, explaining problems, and discussing how to resolve or prevent problems. The photos cover a wide range of scenarios, including tripping, burn, and electrical dangers.
Great for in-person therapy and teletherapy!
This set includes the following:
PDF with 2 photos per page - ideal for printing
PDF with 1 photo per page - ideal for viewing large photos on a tablet or other device offline
Boom Cards - contains photos with open-ended problem-solving questions (view live preview here)
To use Boom Cards, you must be connected to the Internet. Boom Cards play on modern browsers (Chrome, Safari, Firefox, and Edge). Apps are available for modern Android, iPads, iPhones, and Kindle Fires. For security and privacy, adults must have a Boom Learning account to use and assign Boom Cards. You will be able to assign the Boom Cards you are buying with "Fast Pins," (a form of play that gives instant feedback to students for self-grading Boom Cards). For assignment options that report student progress back to you, you will need to purchase a premium account. You may be eligible for a free trial from Boom Learning. Read here for details: http://bit.ly/BoomTrial. If you choose not to stay on a premium account after your free trial, you will still be able to assign all your Boom Cards to as many students as you see fit using Fast Play pins (which give instant feedback for decks that are self-grading). You will not be charged when your free trial expires."
Report this resource to TPT