Homeschool Career In STEM Explorer (Lifetime Family License)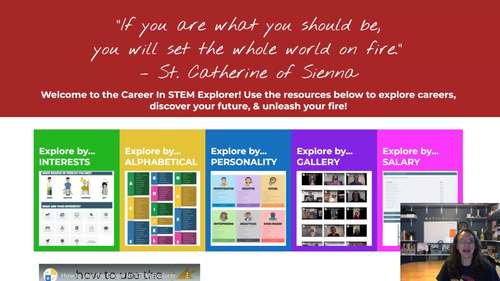 ;
Compatible with Digital Devices
The Teacher-Author has indicated that this resource can be used for device-based learning.
Description
Empower your teen with the only tool they need to discover their future and make informed career decisions with unlimited lifetime access to the Career In STEM Explorer - world's easiest STEM career exploration system!
Used by over 3 million students to date, the Career In STEM Explorer system will help your teenager discover tremendous opportunities in STEM without your help using hundreds of digital STEM career exploration resources accessed in a fun and easy way. Specifically designed for homeschool career exploration, the Explorer system empowers teens to make their own decisions and build their resume through independent inquiry-based activities that mimic those of real STEM professionals.
Ideal for homeschool students ages 12 to 16, this purchase is one and done - your student gets unlimited lifetime access to...
Nearly 200 STEM career profiles, each with virtual job shadow YouTube video, career information sheet in English & Spanish, and fun career focused 'try it' activity. Career profiles are arranged in 5 different categories - interests, alphabetical list, gallery, personality, and salary/education.
New career profiles added weekly to keep things fresh and exciting.
Monthly STEM Challenge to keep your teen engaged and exploring, build STEM skills, and chance to win cash!
Digital portfolio for students to showcase their work, share feedback with peers, and build their resume.
See free previews of everything that is included in the Career In STEM Explorer System HERE
And best of all, there is NO work needed for you! With the Career In STEM Explorer you can rest assured that you have the best possible tool for your child to build a future they love in the fields of science, technology, engineering, and math.
How it Works: When you purchase, you will get a PDF digital download with private link and password to the Homeschool Career In STEM Explorer. It is yours for unlimited lifetime use with no logins or accounts to be bothered with - just click and discover anytime, anywhere! See a short preview above, and the full length preview video of everything that is included with the Homeschool Career In STEM Explorer here.
THIS LICENSE IS FOR ONE HOMESCHOOL FAMILY, covering your children in your household only. Need an educator license for your class or school? CLICK HERE
Thank you for respecting this :)
More STEM Career Readiness & Exploration Resources
Teaching Duration
Lifelong tool
Report this resource to TPT