Homework Packet for 3rd Grade Math & ELA Spiral Review - Print and Digital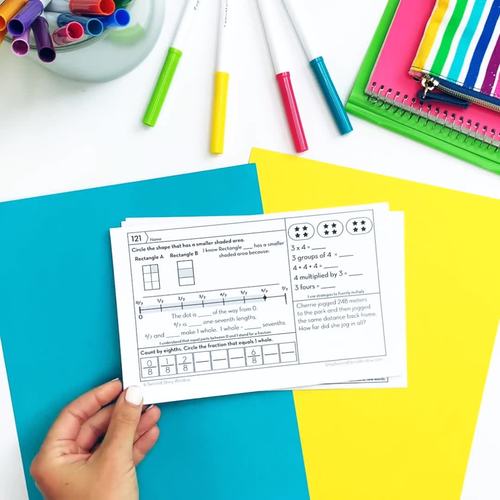 ;
Zip

Google Apps™
Includes Google Apps™
This bundle contains one or more resources with Google apps (e.g. docs, slides, etc.).
What educators are saying
This is amazing! I absolutely love it. Sometimes I use it for warmups and sometimes I use it for homework. :)
This is a great way for my students to gain confidence in their prior skills of mastery. They feel good knowing that they can easily complete. Plus it gets challenging when needed.
Products in this Bundle (3)
Bonus
3rd Grade Homework Combined AND Digital
Also included in
Do you need DIFFERENTIATED and MEANINGFUL homework for students that helps them spiral review grade level math and ELA standards? This is a bundle of 540 pages of our best-selling spiral review ELA & Math homework for 1st, 2nd, and 3rd grade. This parent-friendly, paper-saving homework is no pre

Price $58.00

Original Price $89.70

Save $31.70
Description
Improve your 3rd grade students' Math and ELA skills with our comprehensive homework packet. This is a bundle of our best-selling spiral review Math & ELA homework for 3rd grade. With daily spiral review of key concepts in math and ELA, your students will have the opportunity to practice and retain important skills. 
This 3rd Grade Math & ELA Spiral Review Homework packet was designed to help students improve their math and language arts skills while providing engaging and challenging material. This resource includes activities that are aligned to 3rd grade math and ELA common core standards.
Included with this 3rd grade ELA and math homework packet: 
180 days of common core aligned spiral review math/ELA practice
Answer Key
Google Slides
This 3rd grade ELA and math resource is perfect for classroom use and can be used as homework, daily spiral review, fast finisher work, or exit tickets. This comprehensive resource is sure to help your students excel in math and ELA, making it a great addition to your 3rd grade classroom curriculum.

Our Spiral Review homework includes both math & ELA content because studies show that mixing different content challenges the learner but leads to more flexible understanding and the ability to implement knowledge in varied situations. 
What makes our homework half sheets special?
❤️ Horizontal (easy to project!) half pages
❤️ Paper saving half-sheet design
❤️ Parent-friendly details
❤️ Effective content review that is not time-consuming or overwhelming
❤️ Detailed answer key
❤️ High quality, non-distracting design
❤️ Both Math & ELA content
❤️ Carefully planned content designed to build independence in students
❤️ Expertly spiraled content that constantly reviews and increases in difficulty
❤️ Key features designed to help students deepen their understanding
❤️ Google Slides for each week
Each day contains a half-sheet with ELA spiral review on one side and spiral review math practice on the other. Copy back to back and cut down horizontally across the middle. Each page is labeled with an "I can" statement for each topic to help grown up helpers understand the activity.
3rd grade ELA homework cycles through 5 language art areas:
✅ Phonics - long vowel practice, r-controlled sounds, ambiguous vowel sounds, ending patterns,
✅ Grammar - affixes, nouns, verbs, adverbs, adjectives, contractions, past tense, subject-verb agreement, etc.
✅ Writing - composition and editing
✅ Vocabulary -- context clues, glossary skills, synonyms, compound words, shades of meaning, etc.
3rd grade math homework cycles through 5 areas:
✅ Fractions — area fractions, linear fractions, fractions of a group, and fraction word problems
✅ Multiplication and Division — modeling multiplication and division, writing and solving equations
✅ Measurement — length, area, perimeter, volume, counting money, graphing
✅ Time — telling time to the minute, elapsed time
✅ Number and Operations — 2 and 3-digit addition and subtraction, problem-solving, rounding, place value
Be sure to download the BONUS file to get the math and ELA spiral review homework combined into one file AND the digital files!
What teachers are saying…
⭐️⭐️⭐️⭐️⭐️ "LOVE this homework offered from Second Story Window! I used the second grade homework resource for years and was so pleased to see it offered for third grade since I will be looping up with my students for their third grade year! This homework is perfect for when you don't want to assign hours of homework, but want your students to continue the practice at home! Quick, easy, and copier efficient! :-)" - Jamie P.
⭐️⭐️⭐️⭐️⭐️ "This was so easy to use and very helpful for my students and their parents.  It was user friendly for the parents and didn't need a lot of explaining." - Theresa G.
⭐️⭐️⭐️⭐️⭐️ "This is a great way for my students to gain confidence in their prior skills of mastery.  They feel good knowing that they can easily complete it. Plus it gets challenging when needed." -Kiara B.
___________________________________
You may also like…
_____________________________________________________
Copyright © Second Story Window
Permission to copy for single classroom use only.
Please purchase additional licenses if you intend to share this product.
Report this resource to TPT