How Does Aquaponics Work? - Earth Science Worksheet - Printable or Google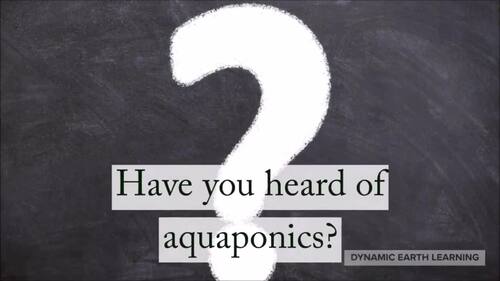 ;
Zip

Google Apps™

Internet Activities
Includes Google Apps™
The Teacher-Author indicated this resource includes assets from Google Workspace (e.g. docs, slides, etc.).
Also included in
Get this bundle with a variety of aquaponic lesson plans and science activities for middle and high school students. Ready for distance learning!❤️Follow My StoreThis set offers the teacher a variety of aquaponics worksheets to choose from, aquaponics benefits, is aquaponics profitable, aquaponics ad

Price $30.40

Original Price $38.00

Save $7.60

Look at these aquaponics & GMO lesson plans, worksheets, and interactive activities to introduce the concepts of aquaponic fish farming, genetics, and more. Format:- Easy print PDFs, also digitally fillable- Needed hyperlinks are embedded for easy student access- Answer keys when they apply❤️F

Price $31.20

Original Price $39.00

Save $7.80
Description
Aquaponics is a very important system that turns the waste from fish and a variety of other aquatic animals into plant food for hydroponic plants and allows them the ability to filter and therefore purify water. Hydroponically grown plants are those that are grown without soil; instead, an alternative substance is used in its place to support the roots and the crop is grown directly in water that is filled with nutrients to help it thrive. An example of a plant that is grown in a hydroponic system is lettuce, and just think, the lettuce you eat was grown with the waste of a fish!
How is this system possible?
- What is aquaponic food production?
- Aquaponics design
- Aquaponics and how bacteria gather in the spaces between the roots of the plants
- How plants convert fish waste into substances that plants can use to grow
Could be a study guide, in-class activity, sub-plan, or homework. This lesson plan is a good supporting resource for someone setting up for an aquaponics science project or raising fish in the classroom.
This worksheet comes in multiple formats so you can use it in any teaching situation!
- Google Slides for Google Classroom
- Digital 3 page PDF for electronic sharing or easy printing
- Research link embedded for quick access
- Short answer and essay questions
- Answer key included
⏳ Teaching Time
Around 30 minutes with classroom discussions
❤️Follow My Store
Click on the green star next to the store logo to receive new product updates.
⭐How to Get TPT Credit for Future Purchases⭐
Go to your "My Purchases" page. Next to each purchase, you'll see a "Provide Feedback" button, click it and you will be taken to a page where you can give a quick rating and leave a short comment for the product. Each time you give feedback, TPT gives you feedback credits you can use to lower the cost of your future purchases. I'd be grateful if you'd leave feedback :)
Teaching Duration
30 minutes
Report this resource to TPT