How to Write a Paragraph: A Step by Step Guide to Paragraph Writing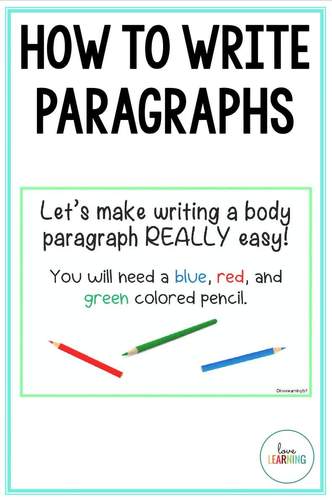 ;
What educators are saying
I loved the slideshow presentation that came with this resource. I presented it during a Google Meet and then had the kids try it independently.
Description
Writing paragraphs has never been easier with this step by step color coding method! I use this to teach my students AND my own children paragraph writing and it has improved their writing tremendously!
This strategy for writing paragraphs has transformed the way my students write their paragraphs, and in turn - their essays!
The lesson teaches students how to use three different colors to add specific details to their body paragraphs. It is a step by step guide that does not overwhelm students. It includes a practice sheet that goes along with the presentation.
The lesson can be adjusted to student level - whether you are teaching elementary or middle school students.
Writing Paragraphs PowerPoint Lesson
Guided Practice (follows along with the lesson)
Independent Practice
Do you want your students to Love ❤️ Learning Writing?
⭐ Let's get to know each other! ⭐
Grab these FREE 5th Grade Word Problem Task Cards and transform your upper elementary classroom with monthly tips to your email!
Learn New Classroom Ideas on my Blog
Follow Me on Instagram
If you have any questions, please email me: lovelearningtpt@gmail.com
©lovelearningtpt
Purchasing this product grants permission for use by one teacher in his or her own classroom or for one homeschool parent teaching his/her child. If you would like to share with others, please purchase additional licenses.
Report this resource to TPT
Standards
to see state-specific standards (only available in the US).
Write opinion pieces on topics or texts, supporting a point of view with reasons and information.
Introduce a topic or text clearly, state an opinion, and create an organizational structure in which ideas are logically grouped to support the writer's purpose.
Provide logically ordered reasons that are supported by facts and details.
Link opinion and reasons using words, phrases, and clauses (e.g., consequently, specifically).
Write informative/explanatory texts to examine a topic and convey ideas and information clearly.