How to Write a Paragraph | Mini Unit Middle School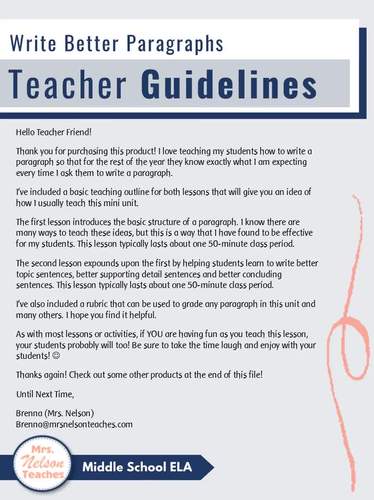 ;
Easel Activity Included
This resource includes a ready-to-use interactive activity students can complete on any device. 
Easel by TPT is free to use!
Learn more
.
What educators are saying
My students really enjoyed this. It was a minimal prep activity and really helped them grasp the elements of a paragraph.
I used this as prep for 6th grade. Good graphics and structured for my reluctant writer. This is a useful tool to help with organizing your writing. Great resource.
Description
Middle school students often need explicit instructions on how to complete seemingly simple tasks--like writing paragraphs! Teachers often assume students can successfully compose a well-written paragraph, when in fact many of them struggle and need extra support. This writing paragraphs mini unit breaks down the process of writing a paragraph (with a topic sentence, supporting detail sentences and concluding sentences) into simple, understandable terms to which students can relate. Ample examples are provided clearly showing students what is expected when a teacher asks them to write a paragraph on any given subject.
This unit is "no-prep" and "ready to teach." Simply download and make a few copies!
Alternatively, this unit can be used digitally with Distance Learning!
The materials included typically take an average middle school class two 50-minute periods to complete. There are two Slides presentations. The first introduces the basic parts of a paragraph. A student handout goes along with this presentation on which students are able to take notes and practice what they are learning throughout the lesson. The second presentation serves as a follow up/review of the previous and provides students with an opportunity to hone their emerging paragraph writing skills a little more. There is also a handout that goes along with this presentation allowing students to practice as they continue to learn about paragraph writing.
This unit serves as a great introduction or a refresher course for students struggling to write well-written paragraphs! This unit is also extremely helpful for our ESL / ELL students working hard to develop their writing skills.
Grading Rubric is Included!!
What's Included:
General Teacher Guidelines and Instructions
Two Individual Lesson Outlines with step-by-step teacher instructions.
Two Instructional Slides Presentations
Two Student Assignments
Well-Written Paragraph Grading Rubric
Ample Examples of Well-written Paragraphs
Instructions for Accessing Presentation
Instructions for Saving Slides Presentation as PowerPoint Presentation
You Might Also Like:
Freak the Mighty Skills-based Novel Unit
The Witch of Blackbird Pond - Complete Novel Unit
Informational Text Feature Unit
Free Stuff!
Did you know that TpT gives you credits towards future purchases when you leave feedback? Your feedback is so important to me as I try to provide the best products possible! Please go to your "My Purchases" page (you may need to log in). Next to each purchase, you'll see a "Provide Feedback" button. Simply click on the button and it will take you to a page where you can give a quick rating and leave a short comment. Thank you so much for providing valuable feedback!
Connect with Me!
Click on the "Follow Me" button on my store page to see all my latest products and updates!
Follow me on Instagram @mrs.nelson.teaches.
Follow me on Pinterest! Brenna Nelson
Check out my NEW Blog! mrsnelsonteaches.com
Teaching Duration
2 hours
Report this resource to TPT
Standards
to see state-specific standards (only available in the US).
Write arguments to support claims with clear reasons and relevant evidence.
Introduce claim(s) and organize the reasons and evidence clearly.
Support claim(s) with clear reasons and relevant evidence, using credible sources and demonstrating an understanding of the topic or text.
Use words, phrases, and clauses to clarify the relationships among claim(s) and reasons.
Provide a concluding statement or section that follows from the argument presented.