How to use GOOGLE SEARCH like a BOSS!! | Research Skills | Digital Citizenship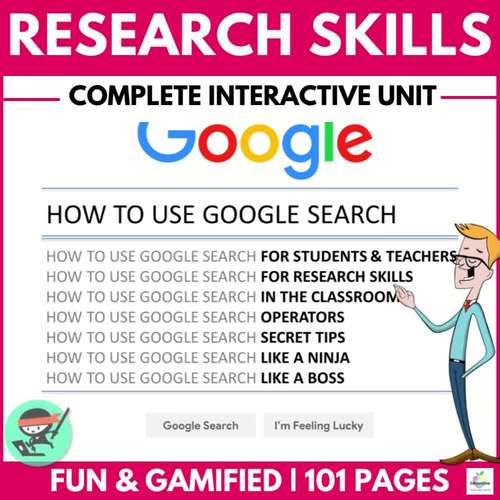 ;
4

th

- 12

th
,
Higher Education
,
Adult Education
,
Staff
Zip

Google Apps™

Internet Activities
Includes Google Apps™
The Teacher-Author indicated this resource includes assets from Google Workspace (e.g. docs, slides, etc.).
What educators are saying
This was a great resource to start the school year and get students used to learning how to research. Thank you!!
I am creating a journalism/digital media class. This is such a good resource for my students. It really helps them to understand and identify key words for searches.
Also included in
If you are a ⭐STEM / Digital Technologies⭐ Co-ordinator or specialist or an experienced Australian teacher in 2023, this bundle is your SMARTEST INVESTMENT OF THE YEAR and is available FOR ALMOST HALF PRICE for a limited time.All 30 of our Premium STEM / Digital Technologies resources are included i

Price $76.46

Original Price $158.41

Save $81.95

This collection brings together 4 of our MOST POPULAR and valuable resources at a DISCOUNTED RATE, providing students with CRITICAL THINKING SKILLS in LITERACY from various perspectives.Be sure to take a look at each in detail to learn about each and READ THE GLOWING REVIEWS for yourself. You will

Price $25.46

Original Price $42.00

Save $16.54

This bundle brings together three of our super popular research skills resources to ensure your students can ask the right questions, seek the correct answers, verify the integrity of what they are researching and report it back in their own words using the correct citation protocols.Be sure to read

Price $12.71

Original Price $27.50

Save $14.79

This bundle combines our top-selling MEDIA LITERACY (competencia mediática) units in SPANISH and ENGLISH formats, designed to teach the essentials of using Google Search (Búsqueda de Google) and identifying Fake News. (Noticias Falsas)These are essentially modern-day life skills for students and tea

Price $18.50

Original Price $37.00

Save $18.50

Teach your students how to plan, research, write, edit and present any essay like a boss with this bundle of incredible resources. Available in a bundle at a heavily discounted rate.Please read the product descriptions and the hundreds of glowing reviews for further details on individual products t

Price $49.95

Original Price $71.40

Save $21.45

This bundle contains our top 10 English, Reading, and Writing resources for grades 5 and 6 students. Packed with 1000+ pages over ten complete work units with hundreds of 5-star reviews at a heavily discounted rate.If you are a first-time grade 5 or 6 teacher, or a seasoned veteran, these resources

Price $89.95

Original Price $135.95

Save $46.00
Description
Teach your students an ESSENTIAL LIFE SKILL of the INFORMATION ERA. Learn how to refine and filter GOOGLE SEARCH QUERIES using PROVEN TECHNIQUES that improve RESEARCH and CRITICAL THINKING SKILLS in 2023. This ❤️NO PREP unit teaches you and your students how to USE GOOGLE SEARCH LIKE A BOSS!
This EDITABLE resource comes with all the instructional slides, graphic organizers, and video tutorials you need to make an immediate impact.
Learn exactly how to find what you want online, filter out unwanted content, and master the many hidden tools that will change how you use the internet. YOU WILL NEVER USE GOOGLE SEARCH THE SAME AGAIN.
LEARNING INTENTIONS:
⭐ How to correctly ask questions to search engines on various devices and platforms.
⭐ How to filter and refine your results to find exactly what you want every time.
⭐ Essential Research and critical thinking skills for students
⭐ Understanding Plagiarism, Citing and acknowledging other people's work.
⭐ How to use Google Image search safely and effectively.
⭐ How to query, synthesize and record your findings logically.
⭐ Understand facts and opinions and how they exist on the web.
⭐ Learn how to manage your search data and history effectively
⭐ THE SPANISH VERSION OF THIS PRODUCT CAN BE FOUND HERE
TEACHERS LIKE YOU SAID THIS...
⭐⭐⭐⭐⭐ Christine H. says... "I bought this for a student who has learning and attention issues. His mom wanted him to dive into research skills. This resource was easy to use and was a great introduction to dive into how to do online research. The slides are easy to read, and the exercises are great either for independent practice or demonstration. Highly recommend. I can see using this with other students next year."
⭐⭐⭐⭐⭐ Toni H. says, I am creating a journalism/digital media class. This is such a good resource for my students. It really helps them to understand and identify keywords for searches.
⭐⭐⭐⭐⭐ Ashlee H. says My students thought they knew how to do a good search, but found when we went through this that they were asking Google WAY too much! Once they simplified their searches, they found they got a lot more meaningful content.
❤️I have taught this to thousands of students and adults, and it is an all-time favourite no matter who you are or what you do. Use this TpT BEST SELLER within the context of a broader research skills / digital citizenship/media literacy unit to maximize its impact on students. It is also great for parent information sessions on technology.
YOU MIGHT ALSO❤️VE THESE ENGLISH RESOURCES
❤️ Year-Long Visual Writing Prompts Collection
❤️ News and Media Literacy Bundle
❤️ 125 Guided Reading Activities for ANY BOOK
❤️ 101 Digital Graphic Organizers
⭐LET'S CONNECT
Innovative Teaching Ideas on YouTube
Innovative Teaching Ideas on Facebook
TERMS
Copyright © Innovative Teaching Ideas. All rights reserved by the author. This product is to be used by the original downloader only. Copying for more than one teacher, classroom, department, school, or school system is prohibited. This product may not be distributed or displayed digitally for public view. Failure to comply is a copyright infringement and a violation of the Digital Millennium Copyright Act (DMCA). Clipart and elements found in this PDF are copyrighted and cannot be extracted and used outside this file without permission or license. Intended for classroom and personal use ONLY. See the product file for clip art and font credits.
CUSTOMER TIPS:
How to get TPT credit to use on future purchases:
• Please go to your My Purchases page (you may need to
login). Beside each purchase, you'll see a Provide Feedback button. Simply click it, and you will be taken to a page where you can give a quick rating and leave a short comment on the product. Each time you give feedback, TPT gives you feedback credits to lower the cost of your future purchases. I value your feedback greatly as it helps me determine which products are most valuable for your classroom to create more for you. ☺
Report this resource to TPT
Standards
to see state-specific standards (only available in the US).
Compare and contrast a firsthand and secondhand account of the same event or topic; describe the differences in focus and the information provided.
Interpret information presented visually, orally, or quantitatively (e.g., in charts, graphs, diagrams, time lines, animations, or interactive elements on Web pages) and explain how the information contributes to an understanding of the text in which it appears.
Integrate information from two texts on the same topic in order to write or speak about the subject knowledgeably.
Analyze multiple accounts of the same event or topic, noting important similarities and differences in the point of view they represent.
Draw on information from multiple print or digital sources, demonstrating the ability to locate an answer to a question quickly or to solve a problem efficiently.