Hundreds Chart | Space | Math Centers | Math Review | Color by Number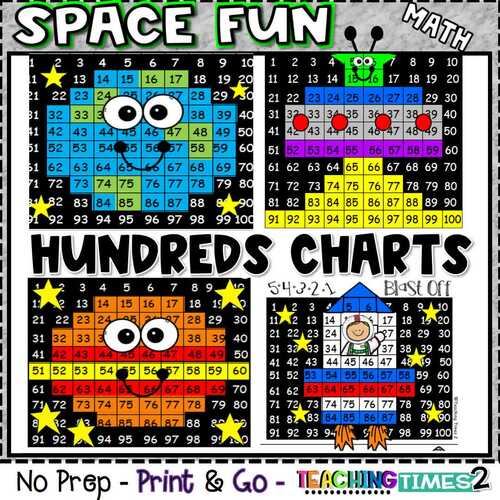 ;
8 with QUICK ACCESS CLICKABLE TABLE of CONTENTS plus DIGITAL
What educators are saying
My students loved this! They would try and guess what the mystery picture was which lead to some really great dialogue. Thank you!
My students love these color by number pages. I even find myself and teachers doing them. Numbers are big enough enough to see with my old lady eyes.
Also included in
PRINTABLE & DIGITAL ❤ How are teachers using this product:Math CentersEarly FinishersMorning WorkSmall GroupsClassroom Work TimeTake-Home PacketsSub PlansSpecial Eventsand many, many more..................⇨ ❤ Click Here to purchase the entire DISCOUNTED full-year FUN BUNDLE!What's Included?OCEA

Price $9.00

Original Price $18.00

Save $9.00
Description
Using the hundreds chart, students will practice place value, sequencing, and number order with these Space Fun Mystery Pictures in . These fun printables are perfect for morning work, math centers, distance learning, early finishers, substitutes, take-home packets, or homework. Using the hundreds chart, students will have fun coloring by number to reveal a Space picture.
❤ How are teachers using this product:
Math Centers
Early Finishers
Morning Work
Small Groups
Classroom Work Time
Take Home Packets
Sub Plans
Special Events
and many, many more..................
❤
Earth
Martian-UFO
Saturn
Rocket
ALL with answer keys
▼▼▼▼▼▼▼▼▼▼▼▼▼▼▼▼▼▼▼▼▼▼▼▼▼▼▼▼▼▼▼▼▼▼▼▼▼▼▼▼▼▼
If you would like to get updates on NEW and CURRENT resources....
▶️ SIGN UP to receive email freebies!
▶️ FOLLOW US on TEACHERS PAY TEACHERS!
▶️ FOLLOW the TEACHING TIMES 2 BLOG!
Thanks and remember to keep learning FUN!! --Kristy & Misty ❤
▼▼▼▼▼▼▼▼▼▼▼▼▼▼▼▼▼▼▼▼▼▼▼▼▼▼▼▼▼▼▼▼▼▼▼▼▼▼▼▼▼▼
Copyright © Teaching Times 2
All rights reserved by the author.
Permission to copy for single classroom use only.
Electronic distribution is limited to single-classroom use only.
If you have any questions about this resource, please contact us at customerservice@teachingtimes2.com
Total Pages
8 with QUICK ACCESS CLICKABLE TABLE of CONTENTS plus DIGITAL
Report this resource to TPT
Standards
to see state-specific standards (only available in the US).
Count to 100 by ones and by tens.
Count forward beginning from a given number within the known sequence (instead of having to begin at 1).
Count to 120, starting at any number less than 120. In this range, read and write numerals and represent a number of objects with a written numeral.
Understand that the three digits of a three-digit number represent amounts of hundreds, tens, and ones; e.g., 706 equals 7 hundreds, 0 tens, and 6 ones. Understand the following as special cases: