I Am Every Good Thing by Derrick Barnes Lesson Plan & Google Activities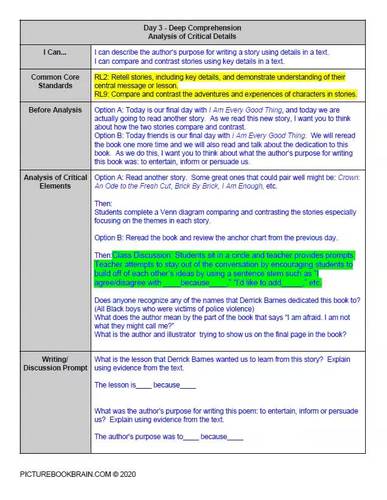 ;
PDF

Google Apps™
Includes Google Apps™
The Teacher-Author indicated this resource includes assets from Google Workspace (e.g. docs, slides, etc.).
Description
A guided reading or interactive read aloud lesson plan for the realistic fiction mentor text picture book I Am Every Good Thing by Derrick Barnes and Gordon C. James. Great for poetry studies, Black History Month, BIPOC studies, Black Lives Matter, etc.! Google Slides presentation and student activities on Google Docs.
Lessons and activities focus on:
Summarizing key details
analyzing figurative language / descriptive language
comparing and contrasting with a Venn diagram
Themes
analyzing the author's message / lesson
author's purpose
main idea and details but can easily be modified for other uses
The lesson plans include:
teacher script with strategic stopping points and questions for students to discuss
printable prompts for student post-reading responses through discussion in writing or reading response logs
4-5 day plan
Discussion questions
Suggested discussion strategies
Strategic stopping points for questioning and close reading
Anchor chart examples
Sentence stems / frames for oracy and vocabulary development
Great for bilingual classrooms
Printable worksheets for written responses
Google Docs for student responses
Google Slides for displaying lesson ideas, discussion questions and prompts
How to Use This Resource:
whole group
small group
as a reading  intervention
special education (SPED)
bilingual or Dual Language / DLI classrooms
with ELLs for ESL instruction
Great for 3rd, 4th, 5th or 6th grade
Google Classroom Distance learning / virtual learning
on chromebooks or iPads for tech classrooms to go paperless
Your third, fourth, fifth or sixth grade students will love this story!
✰ ✭ ✰ ✭ ✰ ✭ ✰ ✭ ✰ ✭ ✰ ✭ ✰ ✭ ✰ ✭ ✰ ✭ ✰ ✭
You May Also Like:
Report this resource to TPT
Standards
to see state-specific standards (only available in the US).
Ask and answer questions to demonstrate understanding of a text, referring explicitly to the text as the basis for the answers.
Recount stories, including fables, folktales, and myths from diverse cultures; determine the central message, lesson, or moral and explain how it is conveyed through key details in the text.
Describe characters in a story (e.g., their traits, motivations, or feelings) and explain how their actions contribute to the sequence of events.
Determine the meaning of words and phrases as they are used in a text, distinguishing literal from nonliteral language.
Refer to parts of stories, dramas, and poems when writing or speaking about a text, using terms such as chapter, scene, and stanza; describe how each successive part builds on earlier sections.