I Spy Early Literacy | Beginning Sounds | CVC CVCe Words | Kindergarten Phonics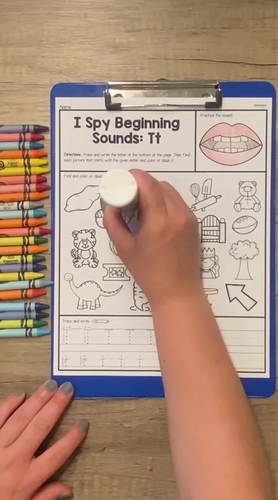 ;
What educators are saying
This is a great review of kindergarten phonics for the first week or two of first grade. The students love it!!
My kids loved playing iSpy games in my classroom! This is perfect for having them practice their early literacy skills in a fun way!
Description
Have you seen our wildly popular 'I Spy Phonics' and wished there was an I Spy set made just for kindergarten - with beginning sounds, CVC, and CVCe words?
Or maybe you have a student in class who could use some engaging intervention practice with letters and sounds?
Enter I Spy Early Literacy - the I Spy phonics set made especially with kindergarten students in mind. The multi-sensory beginning sounds set comes in two versions - with optional pronunciation mouth clipart, letter writing practice, and a section to spy words starting with that letter.
But that's not all - we've also included CVC and CVCe words so you're set for the entire school year!
Whether you use this resource for small group phonics instruction, literacy centers, morning work, at-home skill reinforcement, early finishers, or more, you and your students are sure to love it.
I Spy Beginning Sounds A-Z (Long and Short Vowel Versions, 31 pages total)

Version 1 - with pronunciation mouth clipart
Version 2 - without pronunciation mouth clipart
I Spy CVC - by Vowel (5 pages)
I Spy CVC - Mixed Vowels (5 pages)
I Spy CVCe - by Vowel (4 pages)
I Spy CVCe - Mixed Vowels (3 pages)
Teachers like you said…
⭐️⭐️⭐️⭐️⭐️
"These I Spy pages are perfect for getting kids to read while feeling like they're playing a game! The words and pictures are challenging enough without being frustrating and I love how it keeps my kids' focus!"
⭐️⭐️⭐️⭐️⭐️
"This was the perfect addition to my word work center.  The kids looked forward to doing the I Spy pages and forgot they were actually learning something!"
⭐️⭐️⭐️⭐️⭐️
"I started using this as morning work to review previously taught skills. The kids LOVED it! So did my principal when she stepped in to cover for me for a little bit. Thanks for a fun resource!"
⭐️⭐️⭐️⭐️⭐️
"I used this in my word work station each week and not matter how many weeks in a row we did it, my kids chose this activity first every time!"
*NOTE: This resource is not for teachers who already own I Spy Phonics.
Like this resource? 
Check out , , andI Spy Hidden Sight Words!
Join the ETTC Family of Teaching Trailblazers to stay up to date on our most current projects!
TERMS OF USE:
Thank you for your purchase! By purchasing this resource, you are agreeing that the contents are the property of Emily Garcia/Education to the Core, and licensed to you only for classroom/personal use as a single user. I retain the copyright, and reserve all rights to this product.
You May:
Use items (free and purchased) for your own classroom students, or your own personal use.
Reference this product in blog posts, at seminars, professional development workshops, or other such venues PROVIDED there is both credit given to myself as the author and a link back to my TPT store is included in your post/presentation.
Distribute and make copies of free items only to other teachers PROVIDED there is credit given to Emily Liscom Garcia and a link back to my TPT store.
You May Not:
Claim this work as your own, alter the files in any way, or remove/attempt to remove the copyright/watermarks.
Sell the files or combine them into another unit for sale/free.
Post this document for sale/free elsewhere on the internet. (This includes Google Doc links on blogs.)
Make copies of purchased items to share with others is strictly forbidden and is a violation of the Terms of Use, along with copyright law.
Obtain this product through any of the channels listed above. Thank you for abiding by universally accepted codes of professional ethics while using this product.

Report this resource to TPT