I Spy Phonics MEGA BUNDLE - Science of Reading Aligned - K to 2nd Grade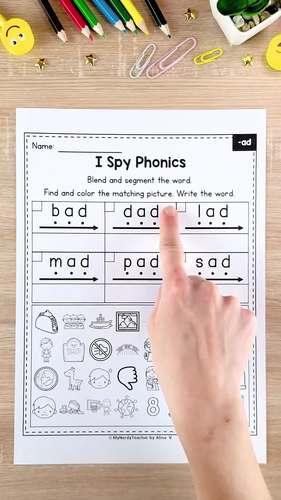 ;
What educators are saying
I really like the format because students have to read and write words before they color. It is a great resource for bellwork, early finishers, and indoor recess. Thanks!
Great for my struggling students. I needed more things to do with theses kids outside of the curriculum and these resources are perfect. Thank you!
Description
⭐⭐⭐ FLASH SALE ⭐⭐⭐Grab The Ultimate I Spy Phonics Mega Bundle JUST $19! ($100 VALUE)! Hurry up, time is running out! 
Grab The Ultimate I Spy Phonics Mega Bundle MEGA BUNDLE for just $19! This huge bundle is on sale for a limited time.
Are you searching for Science of Reading Aligned activities that keep your students engaged? Look no further! 
This bundle is included in The Ultimate Science of Reading ENDLESS BUNDLE. Click here to find out more: ⭐⭐⭐ The Ultimate Science of Reading ENDLESS BUNDLE ⭐⭐⭐
What if you had activities that could help reinforce blending while having fun?
Students will be begging to use these low-prep activities while practicing blending and searching for the matching picture.
Your students will have a blast with these I Spy Phonics Activities. 
They are perfect for centers, homework, intervention, and morning work. 
These centers are great for differentiation and practicing different phonics patterns as they are organized by scope and sequence;
Perfect for kindergarten, 1st-grade, and 2nd-grade students.
These low-prep, printable centers include an answer key.
Each skill has its own page. 
Reinforce blending while having fun.
CCSS and TEKS Aligned
PHONICS SKILLS INCLUDED (USING DECODABLE WORDS ONLY)
CVC Words (53 pages) - organized by word family and by short vowel
Blends (84 pages):

S Blends: sk, sl, st, s, sn, mixed S Blends
L Blends: bl, cl, fl, gl, pl, mixed L Blends
R Blends: br, cr, dr, fr, gr, pr, tr, mixed R Blends
shr, thr
Ending Blends: mp, nd, st, ft, sp, sk, nt, nch, ct, lk, lt
str
spl
spr
scr
Mixed Ending Blends
Floss+z Rule (7 pages): ss, ff, ll, zz, mixed words
Digraphs (16 pages): sh, th (voiced and unvoiced), ck, qu, Mixed Digraphs
Nasal Blends (19 pages): nk, ng
Long Vowels (34 pages): a-e, i-e, o-e, e-e, u-e, mixed long vowels u-e /oo/
R Controlled Vowels (21 pages): ar, er, or, ir /er/, ur /er/, mixed R controlled vowels, -ear/er/, ore /or/, our /or/, oor /or/
Vowel Pairs (57 pages) & Diphthongs (55 pages):

ai
ay
ee
ea
oa
ey
eigh
ie
ow
oe
ai/ay
ee/ea
oa/ow
mixed vowel pairs
oo (as in zoo)
oo (as in book)
mixed oo
ou
oi
oy
aw
ou/aw
oi/oy
ue
ew
ui
au
ow
aw/au
ough/ought
mixed diphthongs
Other Sounds (24 pages): kn, /z/ spelled s, wr, ve, tch, ed /t/, ed /d/, ed /ed/, le, /j/ spelled g, /s/ spelled c, ge, dge, gh, ph, ce, se, mb, tion
THIS DONE-FOR-YOU BUNDLE MAKES LEARNING EASY AND FUN!
Your students can easily learn through play.
You no longer have to spend hours searching the internet for the perfect bundle because it's just a click away.
You have a step-by-step plan for how to help your students.
You can use a bundle created by a teacher with ten years of experience in the classroom.
Your students can practice a wide range of skills.
WHY YOU SHOULD CHOOSE THIS BUNDLE
Save money that you'd spend buying individual activities.
Save time. Get back your after-school hours and weekends and spend more time with your loved ones.
Don't let your students fall behind. 
Practice a wide variety of skills.
All the activities are organized by scope and sequence.
This bundle will help your students practice the phonics patterns you're teaching them without the overwhelmed. 
Disclaimer: This is a digital product that will be delivered via email. You will not be receiving anything in the mail. 
Report this resource to TPT