I am Thankful For Activity | Thanksgiving Activities Bulletin Board Google Slide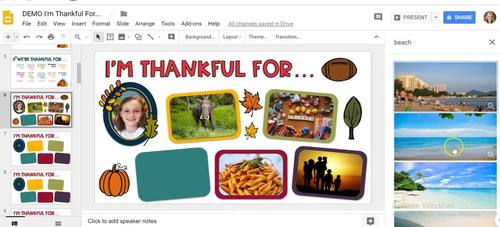 ;
PDF

Google Apps™
Includes Google Apps™
The Teacher-Author indicated this resource includes assets from Google Workspace (e.g. docs, slides, etc.).
What educators are saying
This was so fun and such a needed change of pace. Loved being able to discuss things that we are TRULY thankful for. Thank you!
This is such a great resource. I used this as a station for students to complete independently. It kept them engaged and they loved adding images.
Also included in
This YEAR-LONG bundle currently includes 11 separate Collaborative Activities in Google Slides to use with your students during the year. What are collaborative digital activities? In these products, students all work in ONE Google Slides presentation to share what they're thankful for, poetry, sign

Price $31.00

Original Price $62.00

Save $31.00

Get $145 worth of free products with our entire year bundle! 50+ activities and resources in Google Slides to use with your 2nd grade students. Back to School activities, agenda slides, vocabulary digital notebook, biography report templates, parent teacher conference slides, graphic organizers, cou

Price $149.00

Original Price $290.50

Save $141.50

Get $125 worth of FREE products with this entire year bundle! 40+ activities and resources in Google Slides to use with your 3rd grade students. Back to school activities, digital agenda slides, parent teacher conference slides, holidays around the world, graphic organizers, multiplication mystery p

Price $129.00

Original Price $253.50

Save $124.50

Save 45% with this mega bundle of our best-selling, no-prep, Fall activities! Parent Teacher Conference Forms, Halloween math activities, Veterans Day cards, Turkey Trouble persuasive writing, family tradition sharing projects and more! I created this bundle to help you save time during the Fall, an

Price $22.50

Original Price $45.00

Save $22.50
Description
A techie take on the classic "I am thankful for" activity! This digital Thanksgiving activity helps to build community and is ZERO-PREP! Students will collaborate in ONE Google Slides presentation to share what they're thankful for. They'll take part in a class discussion slide, stating what they're thankful for at school and then create their own digital thankful poster.
Each student will personalize a slide:
★ Take a photo of themselves (and learn to crop it into a shape)
★ Use images to show 5 things they're thankful for
★ Decorate the slide using the provided Fall clipart
After the slides are completed, have students present their slide in front of the class or have students use the comment feature on Google Slides to give feedback on each other's digital posters. Directions included to help introduce commenting. Kids LOVE commenting.
★ Links to 2 Google Slides Presentations
Completely EDITABLE - Your students can change the layout, colors, and title. Everything can move on the slide.
Non-Editable - Students cannot change the layout or colors. Students cannot move boxes or title around. Everything is secure.
★ Class discussion slide "We are Thankful"
★ Cover slide for class photo
★ GIF to teach students how to crop a photo
★ Step-by-step instructions for accessing, commenting, editing, inserting pictures, sharing, and printing slides
Share with parents by sending them the link or print the slides to make a hard-copy book or bulletin board.
It's great for students and teachers who are just starting to use Google Slides and also those already Google Slides savvy. Share this activity through Google Classroom or simply share the link.
*NOTE: When you purchase this product, the license can be used for one classroom, not an entire grade level or school. Please purchase multiple licenses if it will be used by more than one teacher. Thank you.
Kathryn Averkamp - kat@makewayfortech.com
Google Certified Educator
Master's degree in Educational Technology
Taught each grade K-4 over the past 11 years
Awarded Teacher of the Year for the 2019-2020 school year
♥ Don't forget you can earn TpT credits by leaving a review after you purchase products.
----------------------------------------------------------------------------------------------------------------------------
⭐⭐⭐⭐⭐More Google Activities ⭐⭐⭐⭐⭐
Beginning of the Year
• Virtual Parent Teacher Conferences
• Back to School Night/Open House/Meet the Teacher Presentation
• Assignment and Agenda Slides with Timers
• Top 5 Picks of Summer Collaborative Class Activity
• 9 Back to School Google Activities
• All About Me Collaborative Slideshow
• Collaborative Kindness Activities in Google Slides
• Digital Growth Mindset and Classroom Rules Poster Activity
• Student of the Day/Week Digital Posters & Class Book
• Printable Growth Mindset and Inspirational Quote Posters
• Entire Year Ultimate Google Slides BUNDLE (Growth Mindset, Reading  Logs, Sharing Projects, more)
Learn Google Classroom for Teachers
• FREE PDF Guide to Google Classroom
• The Ultimate Video Course for Using Google in Your Classroom
Start mastering Google Classroom and creating interactive Google Slides activities and self-grading assessments in Google Forms. This complete video course will teach you everything you need to know about using Google accounts in your classroom. You'll get instant access to more than 35 easy-to-follow videos that I created specifically for beginners
Writing/Reading
• Distance Learning Writing Prompt Journal "My At-Home Adventure."
• Digital Reading Logs and Graphic Organizers
• Digital Vocabulary Notebook For Any Subject
• Digital Stickers: Improvement Needed + Motivational
• Mother's Day Cards in Google Slides
Math
• Plan a Thanksgiving Party - Addition and Subtraction Word Problems
• Entire Year Digital Multiplication Mystery Pictures in Google Slides
• Christmas and Hanukkah Digital Multiplication Mystery Pictures
• Christmas and Hanukkah Digital Addition and Subtraction Mystery Pictures
• Counting Coins and Bills Activities and Assessment
• Subtraction - Regroup or Not?
• Subtraction with Regrouping Word Problems Review (Topic 6 Envision)
• Digital Stickers: Improvement Needed + Motivational
Social Studies
• Me on a Map Digital Flipbook + Landforms Digital Flipbook
• Google Slides Sharing Projects (Timelines, Family Traditions, Community Workers Current Events)
• I Have a Dream and Can Take Action (Martin Luther King Jr. Activity)
• Communities: Rural, Urban, and Suburban in Google Slides (+ Google Earth!)
Report this resource to TPT