[INB] Rooms of the house Halloween Edition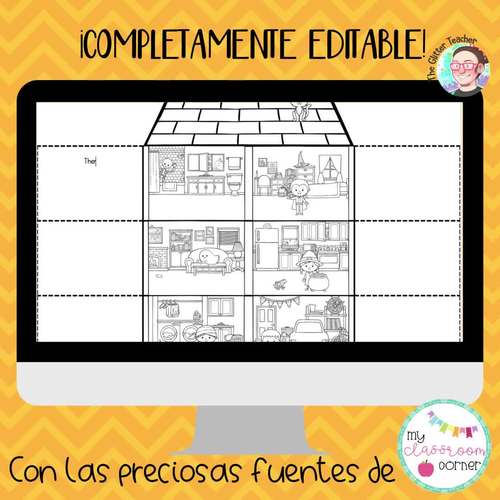 ;
What educators are saying
Está genial. Los dibujos están muy bien. Yo ya había hecho algo parecido pero la verdad es que a tí te ha quedado suuuuuuper.
My students love your resources and they really had a wonderful time with this Halloween House!!!! They loved it!
Description
Estas plantillas son perfectas para utilizar con la Libreta Interactiva y trabajar el vocabulario clave de las partes y objetos de la casa en los cursos educación primaria ambientado en la época de Halloween.
Incluye dos versiones en blanco y negro para colorear y recortar.
Lo he hecho editable para que podáis incluir lo que queráis en las solapas, pero os incluyo mis sugerencias también.
El primero incluye las habitaciones: bathroom, bedroom, living room, kitchen, garage y laundry room.
El segundo tiene las habicaciones: bathroom, bedroom, living room, kitchen, garage y garden.
Los personajes que aparecen son vampire, skeleton, ghost, witch, mummy y Frankenstein's monster.
También he incluido animales típicos de Halloween: cat, rat, spider, toad or frog y bat.
Los clipart, fondos y fuentes utilizadas son de Little Red y My Classroom Corner.
¡No os dejéis las marionetas de papel de Halloween para jugar también! ¡Son gratuitas!
Report this resource to TPT