INSTANT ELA Printables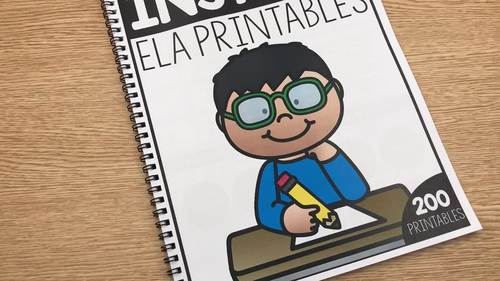 ;
What educators are saying
Wonderful resource! So easy to use! Find the skill you need, print, and go! Perfect for independent work, review, sub plans and homework!
This resource was very helpful in my classroom. My kinders loved it and found it engaging. Easy to use and little to no preparation needed. Great resource!!
Also included in
* * * Questions? Click HERE to Instant Message me! * * *Wow! It's *FINALLY* here! Below I will detail out all of the information about by NEW VIP Bundle! EVERYTHING in this bundle is new, new, NEW! Are you ready to take the leap and become a VIP Bundle owner?! 1. Alphabet Centers Through the Year

Price $180.00

Original Price $336.00

Save $156.00
Description
* * This packet is part of the VIP Bundle! * *

* * * Questions? Click HERE to Instant Message me! * * *

What is the INSTANT ELA Printables packet?
Thanks so much for showing interest in my INSTANT ELA printables packet! The INSTANT ELA Printables packet includes quick-print ELA sheets. The sheets can be quickly implemented into your whole-group lessons, used as homework placed into sheet protectors for centers, used as an option for early finishers, or however else you might see fit. The INSTANT ELA printables are labeled with their skill in the top right corner. These printables are also organized in the packet by skill which allows you to quickly access what you need and when you need it! Here is a quick breakdown of what you get:

What is included in the INSTANT ELA Printables packet?

Alphabet INSTANT printables (32 printables included)
Rhyming INSTANT printables (10 printables included)
Sounds INSTANT printables (25 printables included)
CVC INSTANT printables (50 printables included)
Blending INSTANT printables (10 printables included)
CVCe INSTANT printables (34 printables included)
Sentences INSTANT printables (10 printables included)
Story Elements INSTANT printables (29 printables included)


View the Math version **HERE**

Questions? Please email me at littlemindsatworkllc@gmail.com

Would you like to receive notifications for my newly released packets and upcoming sale? Be sure to FOLLOW ME here on TPT!
**Join my private Facebook Group to join fellow Pre-K, Kindergarten, First Grade and Second Grade teachers that use my curriculum! Collaborate, chat and share ideas with like-minded teachers! Join the private Facebook group H E R E!
Visit my blog Little Minds at Work
Follow me on Facebook
Report this resource to TPT