INSTRUMENT SPELLING BOOM CARDS™ Musical Instrument Game Music Activity Google™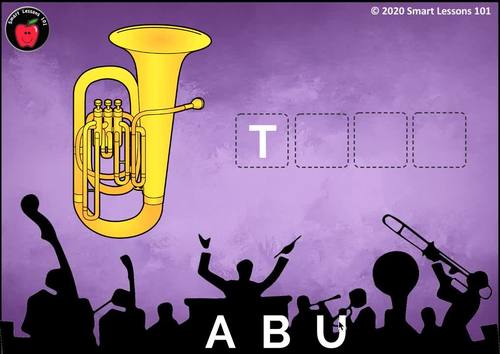 ;
PDF

Google Apps™

Internet Activities
Includes Google Apps™
The Teacher-Author indicated this resource includes assets from Google Workspace (e.g. docs, slides, etc.).
What educators are saying
This was a great game/assessment for fourth and fifth graders. Boom Cards are a great way to get kids excited about learning.
Description
Orchestra Instrument Spelling Boom Cards are a fast, easy and convenient internet activity perfect for distance learning, online music lessons or in your elementary music classroom! Teachers can post or assign this music activity in Google Classroom for the purpose of assessment or practice! Fast play mode allows students to identify and review instrument names and practice spelling them with this fun music activity. In this boom card game, students will be shown an instrument and they will spell its name by dragging letters into boxes in the correct order. This product will help familiarize students with instrument names and how to spell them.
RESOURCE INCLUDES:
30 BOOM CARDS
Brass Instruments: Cornet, French Horn, Trombone, Trumpet, Tuba
Woodwind Instruments: Bass Clarinet, Bassoon, Clarinet, English Horn, Flute, Oboe, Piccolo, Pipe Organ, Saxophone
Percussion Instruments: Bass Drum, Cymbals, Gong, Marimba, Piano, Snare Drum, Tambourine, Timpani, Triangle, Tubular Bells, Xylophone
String Instruments: Bass, Cello, Viola, Violin, Harp
PREVIEW THE PRODUCT:
Click HERE to preview this product!
To use Boom Cards, you must be connected to the Internet. Boom Cards play on modern browsers (Chrome, Safari, Firefox, and Edge). Apps are available for Android, iPads, iPhones, and Kindle Fires. For security and privacy, adults must have a Boom Learning account to use and assign Boom Cards. You will be able to assign the Boom Cards you are buying with "Fast Pins," (play provides instant feedback for self-grading Boom Cards). Fast Play is always a free way for students to engage with Boom Cards decks. For additional assignment options you'll need a premium account. If you are new to Boom Learning, you will be offered a free trial of our premium account. Read here for details: http://bit.ly/BoomTrial.
You may be eligible for a free trial from Boom Learning. Read here for details: http://bit.ly/BoomTrial. If you choose not to stay on a premium account after your free trial, you will still be able to assign all your Boom Cards to as many students as you see fit using Fast Play pins (which give instant feedback for decks that are self-grading).
BOOM CARDS™ are GREAT for:
*Independent work
*Group work
*Whole Class Engagement
*Competitive games
*Homework
*Music Centers
*Assessment / Quiz
*Test prep
PLAY BOOM CARDS on:
*Tablets
*Whiteboards
*Computers
*Laptops
*iPads
*iPhones
*Chromebook
WHY USE BOOM CARDS?
*Save hours of prep!
*No cutting!
*No laminating!
*No storage bins!
*Self-grading!
*Super fun!
RECOMMENDED FOR USE BY:
♫ General Music Classes
♫ Instrumental Classes
♫ Music Specialists
♫ Perfect for the Substitute (sub tub) / Supply Teacher
♫ Studio Teachers
♫ Homeschool
♫ Teachers and Parents with Minimal Music Background
Boom Learning℠ and Boom Cards™ are the trademarks of Boom Learning Inc. Used with permission.
SALES & FREEBIES
Click HERE to be the first to see new products and FREEBIES and learn about upcoming sales!
FREE STORE CREDITS
Want to get Free store Credits? Click HERE to provide FEEDBACK!
♫ FREEBIES
BAG Recorder Fingering Boom Cards for Google Classroom TM
FREE Recorder Fingering Dictionary
SMART THEORY NOTE NAME POSTERS
LINES ON THE STAFF Music Theory FREEBIE with Video and Reproducible
Winter Treble Clef Staff Paper FREEBIE
Groundhog Day Color by Rhythm Symbols FREEBIE
Rhythm Symbol Anchor Chart FREEBIE
First Day of Music Photo Signs
♫ INSTRUMENT PRODUCTS YOU MIGHT LIKE:
Brass Family Coloring Posters and Worksheets
Woodwind Family Coloring Posters and Worksheets
String Family Coloring Posters and Worksheets
Percussion Family Coloring Posters and Worksheets
Instrument Family BUNDLE Coloring Posters and Worksheets
♫ INSTRUMENT BOOM CARDS YOU MIGHT LIKE:
Percussion Instruments Hit, Shake, Scrape
Percussion Instruments Pitched and Unpitched
CATEGORIES: band activities, Band director, Band Games, Band Lessons, beginning band, Beginning band games, beginner recorders, beginning orchestra, Boom Cards Distance Learning, Boom Cards, brass family, brass instrument, digital task cards, distance learning, elementary music, Elementary music activities, fun activities, fun stuff, google classroom, google classroom distance learning, google classroom activities, google classroom music, google classroom music lessons, Instrument families, instrumental music, instruments of the orchestra, instrumental music, learn about musical instruments, music activities, Music assessment, music band, Music Centers, Music ed, Music Education, music games, Music lesson for sub, Music lesson plans K-5, Music Lessons, Music sub plans, music sub plans for non music sub, music theory activities, Music theory assessment, music theory games, musical instrument families, musical instruments, orchestra, orchestra activities, Orchestra games, percussion, percussion family, string family, string instruments, Sub tub, Substitute Lessons, substitute plans, substitute teacher, Substitute teacher activities, task card music activities, Teaching Band, Teaching Theory, Woodwind family, woodwind instrument, music distance learning, music at home, music boom cards, music google classroom, distance learning music, digital music resources, digital music games, band google classroom, band digital resources, Interactive music games, musical definitions, music for google classroom, band distance learning, distance learning elementary music, distance learning concert band, music distance learning boom cards, music distance learning interactive
Report this resource to TPT