Ice Breaker Cootie Catcher for Back To School (Geometric Coloring Page 6 pages)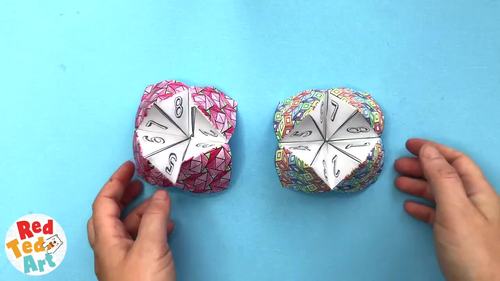 ;
What educators are saying
These fortune tellers are a huge hit in every group I work with! I used this with at least 3 classes during the shutdown (I worked with Emergency workers children in my district)
Description
An easy geometric maths pattern inspired STEAM Project for Back to School or any "getting to know you" working session with kids. These Maths Patterned Cootie Catcher printables are an easy STEAM project to print and distribute in the classroom - there a two designs and two versions. The first contains a set of Getting To Know You quetions. The second cootie catcher is blank so the children can practice writing and adding their own questions.

This paper craft profits the opportunity to develop writing skills, fine motor skills and practicing interpersonal skills!

**Please do FOLLOW the store for latest projects and best deals**

This 6 page printable American Flag pack includes:
* Lesson plan overview
* Printable step by step cootie catcher making instructions on one worksheet
* Choice of two geometric printables - Cubes/ Triangles, with both a plain or questioned cootie catcher. 4 printables in total.

Key Learning Objectives:
* Folding skills
* Looking at shapes and symmetry
* Following instructions
* Seasonal Activity
* Opportunity to practice interpersonal skills
* Writing practice
* Fact learning
Teaching Duration
30 minutes
Report this resource to TPT