Ice Cream In a Bag Science Lesson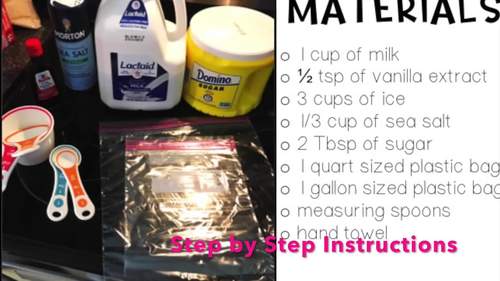 ;
What educators are saying
I used this as a fun end of year experiment with my students. This was a great activity that everyone enjoyed and was able to participate in. It will definitely be on my list every year.
This was a great resource! Fun learning activity and having the booklet was helpful for assessment Thanks!
Also included in
Teach students about heat transfer through convection, conduction, and radiation with these easy to use heat energy activities. This includes PowerPoints, STEM, quizzes, interactive notebook pieces, and more! This bundle includes: ♨️Heat Energy PowerPoint Lessons & Quizzes ♨️Thermal Energy and Hea

Price $14.99

Original Price $21.49

Save $6.50

Get ready to have some FUN with these end of year STEM activities. These STEM challenges are perfect for the last week of school as they integrate all subjects, including reading and writing. In this bundle, I've included 5E lesson plans with each activity so that you can have more time for other en

Price $10.00

Original Price $15.50

Save $5.50
Description
Get hands-on learning with heat transfer! This STEM challenge is perfect for end-of-the-year activities! Learn about conduction with this engaging and delicious ice cream in a bag science lesson! You'll love the step-by-step instructions to make lesson planning easy!
This resource includes: 
✨Step-by-step instructions to be displayed on a board
✨Teacher background
✨5E lesson plan
✨Parent request letter (for supplies)
✨Science experiment sheet (scientific method)
✨Freezing Salt reading passage with comprehension questions
✨STEAM challenge: Illustrate a model
Teachers love this science activity because it integrates science, reading, and writing with hands-on learning! Eating the ice cream is an added bonus!
Here's a blog post about using this in our Heat Energy Unit.
This resource is a perfect addition to 
Heat Energy Interactive Lapbook
**********************************************************
It pays to follow Simply STEAM! All resources are 50% off for the first 24 hours. Follow Simply STEAM to know when resources are on sale!
Don't forget to rate this resource for your FREE TpT credits!
**********************************************************
Answer Key
Included with rubric
Report this resource to TPT
Standards
to see state-specific standards (only available in the US).
Ask and answer questions to demonstrate understanding of a text, referring explicitly to the text as the basis for the answers.
Describe the relationship between a series of historical events, scientific ideas or concepts, or steps in technical procedures in a text, using language that pertains to time, sequence, and cause/effect.
Recall information from experiences or gather information from print and digital sources; take brief notes on sources and sort evidence into provided categories.
Construct an argument with evidence that some changes caused by heating or cooling can be reversed and some cannot. Examples of reversible changes could include materials such as water and butter at different temperatures. Examples of irreversible changes could include cooking an egg, freezing a plant leaf, and heating paper.