Identifying Feelings and Emotions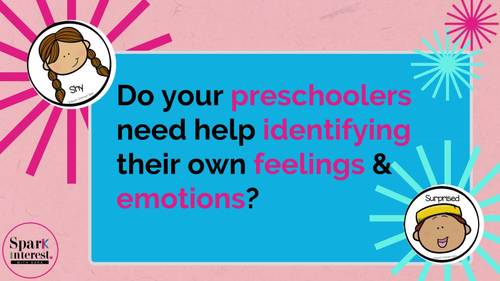 ;
Also included in
Looking for Identifying Feelings Activities for your preschool, pre-k and kindergarten students? This identifying feelings activities bundle is full of so much variety and goodness that it will be a welcome addition to your social-emotional learning curriculum! From lesson plans, worksheets, discuss

Price $14.50

Original Price $20.75

Save $6.25
Description
Helping children with labeling and identifying feelings and emotions is such an important first step in any SEL curriculum. We know that helping children learn how to identify feelings and emotions will help them be better able to regulate their own responses to strong emotions.
This identifying feelings and emotions resource focuses on helping our young learners be more equipped at identifying feelings and emotions.
What is this feeling called? What does it feel like? What does it look like? What can I do when those strong emotions arise?
☀️This identifying feelings resource pack includes so much! Download the PREVIEW for more details!☀️
These identifying feelings activities have the CASEL SEL COMPETENCIES in mind.
"Self-Awareness – accurately recognizing one's own emotions, thoughts, and values and how they influence behavior." (www.casel.org)
☀️Did you know this is part of a bundle? Save $ with the Identifying Feelings Bundle☀️
How to use these identifying feelings and emotions resources?
The Powerpoint & activities are intended for group time with our young learners. This allows for us to talk to each other, share our thoughts and experiences, and most importantly help make sure that we are all on the same page.
What's Included?
✯ Detailed Product Description ▻with detailed ideas & instructions on how to make the most out of these identifying feelings and emotions activities.
✯ Identifying Feelings and Emotions Read Aloud PowerPoint ▻These 12 vibrant characters describe what it is like to feel that emotion and use scenarios to further illustrate what is happening. They engage our children by asking questions to help make links to our own individual experiences.
▻Have you felt this way before?
▻What can we do when we feel this way?
The 12 emotions depicted are:
· Frustrated
· Confused
· Scared
· Nervous
· Happy
· Sad
· Proud
· Excited
· Silly
· Surprised
· Shy
· Tired
✯ 12 My Many Feelings Description Cards: (Color & B&W)
These may be displayed in the classroom to reinforce and remind the children of the different characters.
✯ How are you Feeling Today? Recording Sheet: (2 Versions - one with lines for writing and one without)
✯ All About My Many Feelings: (B&W)
Create a take-home book about our many feelings for your children to fill in and take home.
*Cover page & 12 Feelings pages included*
✯ My Feelings Stick Puppets: (Color)
These feelings stick puppets are a fun way to encourage our young learners to develop an understanding of feelings and emotions by using them in role-play situations.
✯ How Do You Feel Emotions Chart: (Color & B&W)
Display this chart in the classroom to encourage children to connect and check-in. How do you feel today?
✯ Connection to Families: Letter Home
A ready-to-send PDF letter to parents informing them about the topic and how they can support their children at home.
✯ My Many Feelings Game (Color)
Use this easy to play game to reinforce identifying feelings and emotions. Play individually or with friends.
4 x different sheets
12 Feelings Buttons
**Please remember to leave feedback, as it helps you earn credit toward future purchases and helps me to continue creating high-quality resources!**
☀️If you are looking for more Social-Emotional Learning Resources check out my products below☀️
I'd love to connect! Find me at
FACEBOOK: SPARK INTEREST WITH SARA
Come check out my -> BLOG
Terms of Use
Copyright ©Spark Interest with Sara 2021. All rights reserved by author, Sara-Jane Lai. This product is intended for classroom and personal use ONLY. It is to be used by the original purchaser only. No part of this document may be distributed, posted on the internet, copied, edited, or resold. All contents of this document are under copyright protection. Please respect all the hard work of myself and all the talented artists who helped create this product.
Report this resource to TPT