Identifying Place Value Powerpoint Game Distance Learning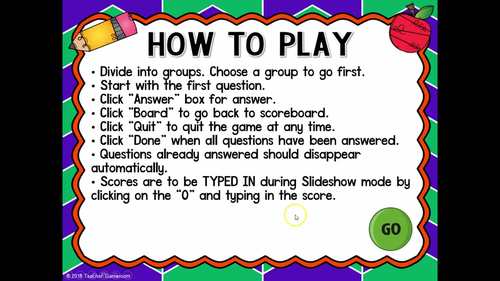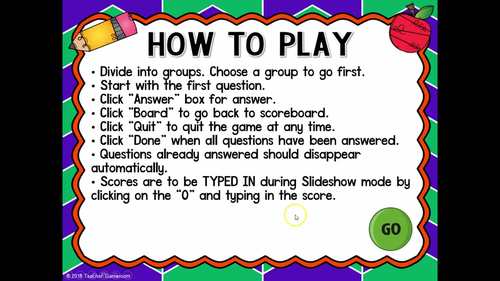 Created By
Teacher Gameroom
Also included in:
Get over 100 fourth grade powerpoint games for 1 low price! This fourth grade bundle grants access to all my fourth grade powerpoint games. This includes all the fourth grade games I plan to make in the future. Simply make this one time purchase and you're ready to start off your fourth grade year g

$298.50

$150.00

Save $148.50
Product Description

Standards
Practice identifying place value with this 4th grade student vs student game. Students work in teams against each other as they identifying the place value of underlined numbers from thousands place to the millions place. There are 21 questions in all (including a tie breaker) and you just click on each question to go to it. The question disappears after you've clicked on it so you know you've answered it. There are 2 scoreboards: a touch scoreboard and type in scoreboard. The type-in scoreboard allows you to type in scores during Slideshow Mode. Great for a whole class review or small group activity. Great for individual practice on the iPad or tablet!
✔ 3 PPT Game (1 PC, 1 Mac, 1 Google Slides Link)
✔ 21 Questions including a Tie Breaker Questions
✔ 2 score board types (PC/Google:Type in; Mac:Touch)
✔ Works great on Smartboard, Activboard, Whiteboard, and Promethean Boards
✔ Works on tablets and iPads
✔ Answer Range Thousands place to the Millions place
✔ Printable Answer Key
✔ User's Guide and Terms of use Page
✔ Common Core aligned - 4.NBT.2
✔ 28 Slides per game
✔ Mac-iPad Version included!
✔ Google Slides included!
✔ Additional Licenses $1.00
✂️ 8-16-19 - Updated questions
✏ Expanded Form to Millions Powerpoint Game
✏️ Boys vs. Girls Rounding Numbers Christmas Powerpoint Game
✏️ Naming Numbers Place Value Powerpoint Game
❤️ ❤️Love my games? Purchase a Yearly License and receive new games all year long. Purchase a Permanent License and gain access to every PPT Game ever made! Grade level licenses for schools and districts now available! ❤️ ❤️
Having issues? Submit any issues in the Q&A Section at the bottom or check out my Frequently Asked Questions on my blog. I will contact you as soon as possible!**********
Please leave feedback for my product! Earn TPT Credits! Thank you for your purchase!
Happy Teachings!
By purchasing this product, you agree not to share, resell, copy, or alter this product in anyway. You agree not share without the purchase of multiple licenses. All sales final. Clip Art is not included as a separate file and is included as part of the background.
Video music provided by: Incompetech - Carefree
© 2019 Teacher Gameroom (Chandra Martin)
Log in
to see state-specific standards (only available in the US).
Read and write multi-digit whole numbers using base-ten numerals, number names, and expanded form. Compare two multi-digit numbers based on meanings of the digits in each place, using >, =, and < symbols to record the results of comparisons.
Report this Resource to TpT