Illustrated Action Verb flash cards & worksheets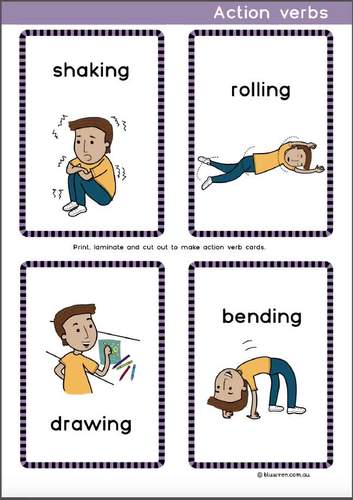 ;
Easel Activity Included
This resource includes a ready-to-use interactive activity students can complete on any device. 
Easel by TPT is free to use!
Learn more
.
Also included in
FAMILY : This People In A Family set of cards is designed to teach children the names of the different members of a family. Families are made up of many different people who have different titles. This is a useful teaching resource when students are learning to name family members (mother, father, s

Price $8.00

Original Price $10.00

Save $2.00

Do you have students in your class who are learning English? Then this product is perfect for you. These highly reviewed packs include cards and worksheets on the themes of MY FAMILY, ACTION VERBS, FEELINGS AND EMOTIONS and AUSTRALIAN ANIMALS. All the artwork is original.

Price $10.90

Original Price $14.00

Save $3.10
Description
There are 52 different actions verbs illustrated in a fun way. Play charades or other games and teach past and future tenses with these cards. Verbs illustrated in this pack include: sitting, standing, skipping, jumping, leaping, running, climbing, walking, spinning, dancing, clapping, thinking, crawling, sleeping, hugging, nodding, hopping, batting, waving, catching, writing, skating, reading, winking, eating, singing, kicking, tip-toeing, swimming, stomping, laughing and riding, diving, whispering, pushing, cutting, shaking, rolling, drawing, bending, building, fishing, gardening, listening, blowing, kneeling, cooking, pouring, looking, pointing, blinking and yawning.
Your students will have great fun acting the different action verbs. They will ask to play and act out these cards again and again.
Also included are 2 action posters with the actions illustrated and an assessment sheet.
*Just added are some follow up worksheets that I have used with my EAL students (Year Levels Foundation-4) to teach the actions and past tense verbs.
Click on the star above to follow my store. If you enjoy this product please leave positive feedback to gain credits for future purchases. If you have any problems please contact me through Product Q.A. and I will get back to you as soon as I can.
Report this resource to TPT