Incentives for Reluctant Singers: Vocal Football Interactive Bulletin Board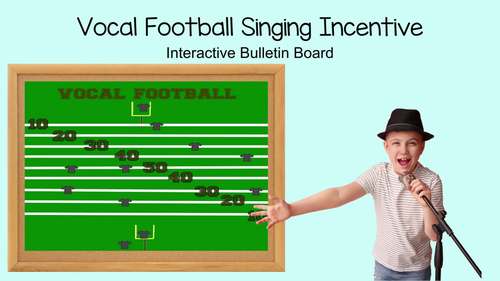 ;
Description
Do you have reluctant singers, especially those who might be going through their voice changes? Vocal Football Singing Incentive Interactive Bulletin Board utilizes personal competition to encourage students to sing while providing the rest of the class a means to learn how to provide constructive criticism and encouragement. In Vocal Football:
Each student gets a paper "shirt" they can label
The shirts are added to the 50-yard line of the bulletin board design (see previews/thumbnails for an example).
As singers pass a warm-up or song excerpt, they can move their shirts to the next yardline.
When a student makes a touchdown, you can choose to give them a certificate, advance to the Vocal Football Superbowl, or both.
The secret Vocal Football uses with reluctant singers is patience and encouragement. Usually, when one brave soul starts, then other students begin to volunteer. No pressure, no humiliation, just understanding and safety. This works best if you start the full use of the activity with education about changing voices and about a no-teasing, no-bullying atmosphere.
This product contains the following for the bulletin board:
1. Design ideas
2. Directions
3. Vocal football shirts
4. Vocal football footballs (for the Vocal Football Superbowl)
5. Suggested warm-ups
6. Play-offs and SuperBowl certificates
7. Scoring guide
8. Bulletin board pieces: yard line, goal posts, letters, yard line numbers
Other room decor and bulletin board ideas and products for singing preparation:
Report this resource to TPT