Inclusive Father's Day Learning Package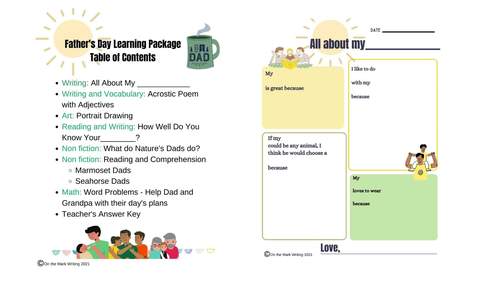 ;
Description
Make Father's Day a theme day (or days depending on the level of your students and activities selected). This inclusive Father's Day package means kids from all types of family backgrounds can be seen and included on Father's Day. They can fill out the activities and gifts based on dad, grandpa, uncle, or whomever.
Just print and go:
The writing and drawing activities (all about, acrostic poem, portrait, and how well do you know?) provide a gift for their special guy.
The reading comprehension is based on animal behaviour of nature's dads.
The math word problems are based around dad and grandpa's plans for a day. There are challenge questions that enable students to go ahead to more complex problems, depending on their grade and level.
Included in this 20 page package:
Writing: All About My ____________
Writing and Vocabulary: Acrostic Poem with A-Z Adjectives List Provided (even re-purpose for other activities)
Art: Portrait Drawing
Reading and Writing: How Well Do You Know Your________?
Non fiction: What do Nature's Dads do? Use the sentences to figure out which animals shows the described behavior.
Non fiction: Reading and Comprehension

Marmoset Dads - read and answer multiple choice questions
Seahorse Dads - read and answer multiple choice questions
Math: Word Problems - Help Dad and Grandpa with their day's plans

Three different word problems are included. Each problem focuses on an activity planned in dad and grandpa's day. Each word problem includes challenge questions to stretch learning. Word problems use multiplication, adding and fractions.
Teacher's Answer Key Included
Report this resource to TPT
Standards
to see state-specific standards (only available in the US).
Write informative/explanatory texts to examine and convey complex ideas and information clearly and accurately through the effective selection, organization, and analysis of content.
Produce clear and coherent writing in which the development, organization, and style are appropriate to task, purpose, and audience.
Write routinely over extended time frames (time for research, reflection, and revision) and shorter time frames (a single sitting or a day or two) for a range of tasks, purposes, and audiences.
Demonstrate command of the conventions of standard English grammar and usage when writing or speaking.
Apply knowledge of language to understand how language functions in different contexts, to make effective choices for meaning or style, and to comprehend more fully when reading or listening.