Independent Reading Full Program: Library Set-up, Check-ins, Displays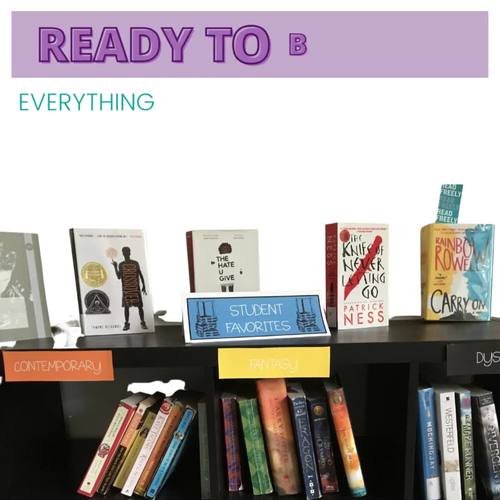 ;
Zip

Google Apps™
Includes Google Apps™
The Teacher-Author indicated this resource includes assets from Google Workspace (e.g. docs, slides, etc.).
What educators are saying
This resource is a great help to me and my students; it saved me a lot of planning time and the kids enjoy using it.
This has been extremely helpful to continue to develop my classroom library! This creator really understands the idea of choice reading and creating a love for it.
Also included in
This ginormous ELA bundle will solve a lot of your problems. You'll never have to stay up late trolling for lesson plan ideas again. You'll just dive into this folder, choose one of the dozens of activities and projects inside, and then hit the hay. Imagine the delicious smells of your own literary

Price $40.00

Original Price $62.99

Save $22.99
Description
Independent Reading, when done right, will bring you and your students so many happy days together. This independent reading program will make it easy for you.
Imagine yourself on your way to class. You walk by one of your students laying in a sunny patch of hallway, reading The Hate U Give. You walk by another with earbuds in, and notice he's listening to The Knife of Never Letting Go on audio. As you enter your classroom, you see two students over by your bookshelf, arguing about whether Stephen King or Orson Scott Card is more fun to read. You think happily of a letter you just got from a parent yesterday, telling you you're the first teacher to get her son to read a book in five years.
Does it have to be a fantasy?

Sometimes it's tough to fight the barrage of "I hate reading" you hear from students who have been repeating it for a decade. You want to change their minds, but you don't know how. Your administrators sure aren't telling you. You might have read 180 Days, or put No More Fake Reading on your Amazon wish list.

But... is it really possible to help readers this reluctant fall in love with reading? Like, as reluctant as your last period seniors?
Yes. After ten years of experimentation and research, I've developed this program to solve these problems for you.
You'll now see a Google drive link option for the student handouts.
From the Reviews:
"I'm so excited... this is fantastic! Thank you!"
"Super helpful for my in class reading program! Thank you!"
"Super resource and already great feedback from students!"
"Thank you for a solid solution to the 'I hate to read...'"
"Thank you for putting together such a great resource and making it so affordable!"
With this program, you can:
Gather and organize your reading library quickly
Find out what titles students love, and get ideas for how to acquire them
Print genre labels to make it easy for students to find the books they want
Develop a system that works for you to keep track of your books
Get signs and ideas for what to put into five different book displays to use throughout the year
Start a book selfie corner and learn how to turn book selfies into recommended reading posters
Check-In on your readers easily
Begin the program with a reading profile one-pager and discover what books your students connect to
Instead of policing, help them inspire each other to read with six creative assessments that help students share their books with each other
Have students create book review mini-videos or blog posts, give book pitches, or create Instagram-themed posters for a new bulletin board
Keep reading fun
Host reading challenges and contests
Use any of the three reading bingo cards to push readers to try new titles and genres
Give special "1000+ Page" awards to students who go all in
This program is ready and waiting to ignite a love of reading in your students. Check out the video preview for an in-depth look at all the tools for success that you'll find inside.
Questions? I'm at betsy@nowsparkcreativity.com.
___
Want to try ONE-PAGERS with your students? Learn how to do it successfully and get four free templates to guide even your art-hating students to success right here.
I bet you're always looking for creative teaching ideas for your classroom. Share the journey in my free Facebook group, Creative High School English.
Report this resource to TPT