Inference Posters & Activities to Infer Meaning with Pictures & Short Stories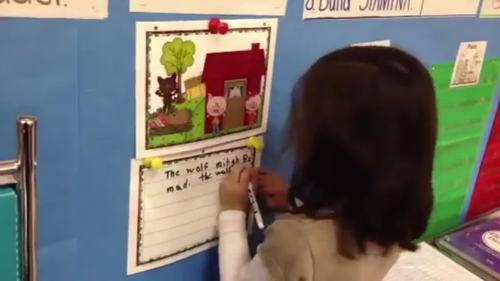 ;
What educators are saying
These are fun and really helpful for teaching students to use pictures and clues from the text. Great resource.
Description
This pack gives you a concrete way to teach inference skills to your students. The students look at an action picture and make inferences about what is happening in the picture. Then, they read the story that goes along with the picture, and make more inferences. Check out my kids using this activity on my blog .
Included in the pack are:
10 full sized posters with a picture to use for inferences
10 full sized posters with lines to allow students to write inferences
10 half sized posters with a picture and text for the kids to use to infer
10 half sized posters with lines and no text
10 inference worksheets that go along with the posters. They provide questions about the picture and story to give guidance while inferring.
4 pages of clue cards-total of 24 cards with inference clues
4 pages of picture cards-total of 24 cards-to match to the clue cards
1 page with pictures and examples of how I use these in my class
I hope these posters help you in your class! I know your kids will love them as much as mine do!
Thanks!
Hilary
Check out my kids using these on my blog!
Report this resource to TPT
Standards
to see state-specific standards (only available in the US).
With prompting and support, describe the relationship between illustrations and the story in which they appear (e.g., what moment in a story an illustration depicts).
Use illustrations and details in a story to describe its characters, setting, or events.
Use information gained from the illustrations and words in a print or digital text to demonstrate understanding of its characters, setting, or plot.
Explain how specific aspects of a text's illustrations contribute to what is conveyed by the words in a story (e.g., create mood, emphasize aspects of a character or setting).
Make connections between the text of a story or drama and a visual or oral presentation of the text, identifying where each version reflects specific descriptions and directions in the text.