Informational Text Structures Task Cards | Text Structure Printables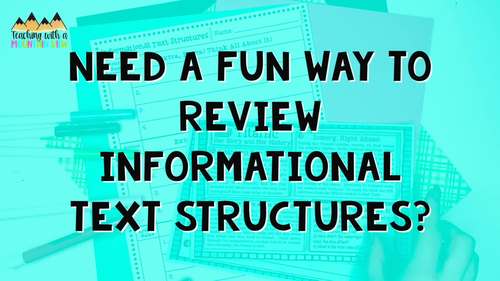 ;
Zip

Google Apps™
Includes Google Apps™
The Teacher-Author indicated this resource includes assets from Google Workspace (e.g. docs, slides, etc.).
What educators are saying
My students loved using this resource! It was very well thought out and highly engaging! Thank you for taking time to create a quality resource!
Also included in
An absolute must have digital and printable reading task card bundle for Grades 4+! Rigorous and engaging, this reading skill task cards are perfect for your upper grades classroom. There are over 100 in-depth, half page task cards in this HUGE bundle! Many cards have multiple passages per card,

Price $19.99

Original Price $28.24

Save $8.25

An absolute must-have, MASSIVE digital and printable reading skills task card bundle. There are over 1,000 Reading Skills Task Cards in this huge discounted bundle of all my bundles (PLUS three free sets!) Many cards have multiple passages per card, including paired passages. This bundle of readin

Price $94.99

Original Price $126.15

Save $31.16

Are you looking for the ULTIMATE resource to teach informational text structures in 3rd, 4th, and 5th grades? You've found it! This bundle is jam packed with engaging and rigorous ideas to teach students all about informational text structures.  Each activity uses high-interest topics to ensure that

Price $20.99

Original Price $27.75

Save $6.76
Description
Perfect for your informational text structure study, these differentiated information text structure task cards contain 48 engaging and informative paragraphs. You can choose to use the 16 half-page task cards with one main topic and three paragraphs about each, or you can use each individual paragraph.
This Resource Includes the Following:
→16 Half Page Task Cards with 3 Comprehension Questions Each
→48 Quarter Page Task Cards with only the paragraphs for identifying text structure
→16 Full Page Printable Versions with Questions and Room to Answer
→Access to TWO Digital Google Slides versions to upload to GOOGLE CLASSROOM
(Please Note: All content is the same for the four options.)
These task cards cover the following types of Informational Text Structures:
Description
Sequence
Cause & Effect
Problem & Solution
Compare & Contrast
These non-fiction text structure task cards are perfect for whole group lessons, small group work, partner work, and individual literacy centers.
You have two options for differentiating your teaching!
Option #1: The first set of cards include 16 half-page cards which include three separate paragraphs about one general topic. Each paragraph was written with a different text structure in mind. Each card also includes 3 additional comprehension or text structure questions that require students to use the information from the paragraphs to answer them.
Option #2: The second option is the individual task cards, 48 in total, which include the **SAME** paragraphs from the half page cards, but there are no questions, and only one paragraph per card. The options are endless for how you want to use these cards!
Check out the preview and *ZOOM IN* for a closer look at some of the cards!
The topics of the cards are as follows:
Titanic
The Fitful Flu
Wildfires
Exotic Pets
Winter Sports
Healthy Eating
Disney
Cool Schools
Tornados
Entertainers
Benjamin Franklin
Candy
World Records
The Gaming World
The Human Body
Bird's Eye View
Digital Access UPDATE: After several requests, I now include a second digital access option, with just one passage per Slide! This is an easy-to-navigate, easy-to-read format that you and your students will love. Please see the video preview for more information and a look at the digital version of these informational text structures task cards.
ANSWER KEYS & RECORDING SHEETS INCLUDED!
MORE Informational Text Resources
Informational Text Comprehension Skills Task Cards!
Informational Text Structures Reading Game
Text Structures Project & Printables
Cards and Questions are Common Core Aligned
RI.3.1 RI.3.2 RI.3.3 RI.3.4 RI.3.8 RI.3.9
RI.4.1 RI.4.2 RI.4.3 RI.4.4 RI.4.5 RI.4.6 RI.4.8 RI.4.9
RI.5.1 RI.5.2 RI.5.3 RI.5.4 RI.5.5 RI.5.8 RI.5.9
Non-Fiction Text Structure Task Cards
Informational Text Structure Task Cards
Text Structure Task Cards
Report this resource to TPT
Standards
to see state-specific standards (only available in the US).
Describe the logical connection between particular sentences and paragraphs in a text (e.g., comparison, cause/effect, first/second/third in a sequence).
Refer to details and examples in a text when explaining what the text says explicitly and when drawing inferences from the text.
Describe the overall structure (e.g., chronology, comparison, cause/effect, problem/solution) of events, ideas, concepts, or information in a text or part of a text.
Compare and contrast the overall structure (e.g., chronology, comparison, cause/effect, problem/solution) of events, ideas, concepts, or information in two or more texts.
Analyze how a particular sentence, paragraph, chapter, or section fits into the overall structure of a text and contributes to the development of the ideas.