Informational Writing Unit FIFTH GRADE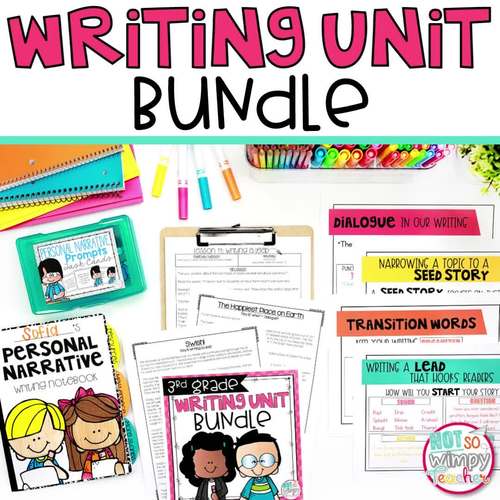 ;
What educators are saying
These units got me to love teaching Writing. My students and I both loved the "small bites" lessons and I saw so much growth in my students confidence and writing skills.
I used this resource during my first year of in-person teaching after distance learning. The mentor texts are helpful and my 6th grade students needed the support from this resource.
Also included in
This HUGE BUNDLE includes everything you need to teach, practice and assess writing for the entire year! Students will complete four major units of study: personal narrative, informational reports, opinion essays and fiction narratives. The best part of this unit is that it includes EVERYTHING you n

Price $60.00

Original Price $100.00

Save $40.00
Description
This unit includes everything you need to teach, practice and assess informational report writing for eight full weeks. Students will be learning all of the skills necessary to write a report with research, a strong lead, interesting details, topic and concluding sentences, paragraphs, citations and so much more! The best part of this unit is that it includes EVERYTHING you need. You do not need to purchase a long list of books. All of the necessary mentor texts are included!
**Would you like to learn how I use these writing units? Click HERE to view a free video on how to implement these writing units.**
Included in this Unit:
• detailed teacher directions and suggestions for simple implementation
• 7 exclusive videos to help implement and organize the unit
• unit at a glance calendar
• 40 days of lesson plans that include guiding questions, materials, mini lessons, student work tasks, student share tasks, intervention and several extension activities
• 14 original mentor text passages
• 24 informational report task cards
• 12 informational paraphrasing task cards
• 24 informational report writing prompt task cards
• 14 teacher anchor charts (blank and filled in versions)
• 20 student anchor charts and printables for writing notebooks
• conference and goal tracking forms
• writing grades tracking forms
• rubrics
• list of 10 additional mentor text books
• 6 different writing publishing papers
• student writing notebook cover and dividers
• teacher notebook covers and binder spines (2 designs!)
• multiple ideas for author share celebrations
• BONUS lesson plan, anchor chart and printable for works cited pages
NEW!!! Digital Writing Notebook with student anchor charts on Google Slides
Lessons Included:
• Setting goals
• What is an informational report?
• Generating report ideas
• Narrowing your report idea to a seed
• Research and note taking
• Table of contents
• Subtopics
• Drafting
• Writing a lead
• Topic and concluding sentences
• Word choice- adding vocabulary and definitions
• Adding details
• Citing your sources (Optional works cited lesson)
• Transitions
• Writing a conclusion
• Text features
• Editing
• Publishing
Mini Lesson: The unit includes 40 lesson plans with a suggested mini lesson. Many of the lessons include the use of mentor text (passages that are included in the unit) and anchor charts. Teacher versions of the anchor charts are included in the unit so that the teacher can project them and fill them out with the class or print them and display in the classroom. Small versions are included for the students to fill out and keep in their writing notebooks as a reference.
Work Time: Students will be applying the skill from the mini lesson into their writing each day. At the end of the unit, they will have completed two full masterpieces and many other independent writings.
Share Time: Lesson plans include a specific task for students each day that allows them to share some piece of their writing with a partner or with the class.
Please take a look at the preview to learn more and see examples of components included in the unit.
Please let me know if you have any questions.
*****************************
Available in this money saving bundle:
*****************************
More Fifth Grade Writing Units:
*****************************
Teaching Duration
2 months
Report this resource to TPT
Standards
to see state-specific standards (only available in the US).
Write informative/explanatory texts to examine a topic and convey ideas and information clearly.
Introduce a topic clearly, provide a general observation and focus, and group related information logically; include formatting (e.g., headings), illustrations, and multimedia when useful to aiding comprehension.
Develop the topic with facts, definitions, concrete details, quotations, or other information and examples related to the topic.
Link ideas within and across categories of information using words, phrases, and clauses (e.g., in contrast, especially).
Use precise language and domain-specific vocabulary to inform about or explain the topic.