Informational Writing Unit | Writing Workshop | Print or Distance Learning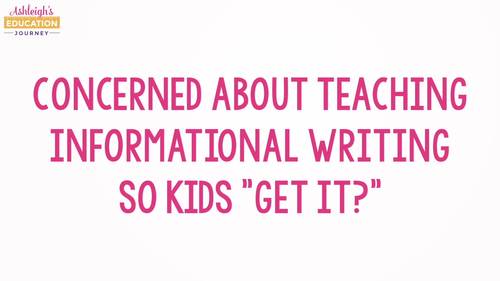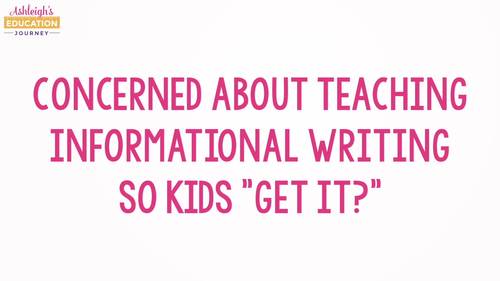 Created By
Ashleigh
 Digital Resource for Students
The Teacher-Author has indicated that this resource is made for device-based learning.
Also included in
Get everything you need to teach narrative, opinion, fictional narrative, and informational writing for the entire year! These lessons are broken down to make writing workshop manageable for the teacher and students. Each document is available as a traditional PDF file. I have ALSO included a link f
Product Description

Standards
This comprehensive unit addresses all of the informational writing standards! This file is available as a traditional PDF file, AND all student forms are available in Google Docs for easy availability to Google Classroom.
********************************************************************
This is a 6-week unit that is broken down to day by day lessons. Each lesson contains directions for a mini lesson, independent work time, and share time. There is also an additional handout or guided practice activity for each of the lessons.
You'll also find rubrics, monthly layout, suggested mentor texts, grammar integration with mentor sentences, and more! You'll love this unit for teaching explanatory writing!
Lessons Include
What is informational writing
Writing an Expert List
Selecting a Topic
Writing Subtopics
First Steps of Research
Writing Notes
Types of Text Structures
Introducing Graphic Organizers
Graphic Organizers Part 2
Writing a Lead
Writing a Topic Sentence
Structure of a Paragraph
Practicing Paragraphs
Supporting Details
Writing Descriptions
Facts-What to include?
Writing Conclusions
Strong Verbs
Developing Voice
Transition Words
Sentence Variety
Quotes and Dialogue
Revision Checklist
Editing Checklist
Creating a Title & Cover Page
Detailed Drawings
Writing Captions
Diagrams, Graphs, & Charts
Creating a Glossary
Author's Tea
Check out these other writing products!
Common Core Narrative Writing Unit
Common Core Opinion Writing Unit
to see state-specific standards (only available in the US).
Provide a concluding statement or section related to the information or explanation presented.
Use precise language and domain-specific vocabulary to inform about or explain the topic.
Link ideas within categories of information using words and phrases (e.g., another, for example, also, because).
Develop the topic with facts, definitions, concrete details, quotations, or other information and examples related to the topic.
Introduce a topic clearly and group related information in paragraphs and sections; include formatting (e.g., headings), illustrations, and multimedia when useful to aiding comprehension.
Report this Resource to TpT