Informative Writing Unit | Prompts, Graphic Organizers, Rubrics and Activities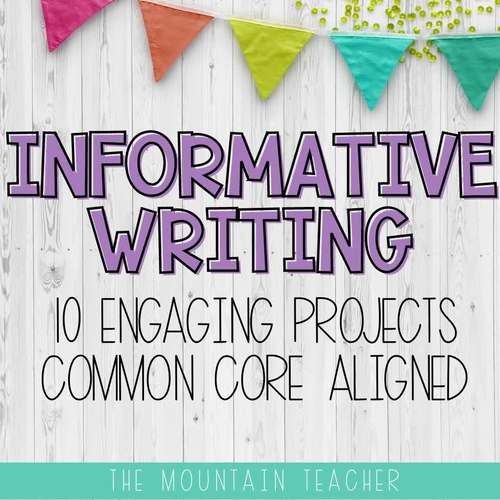 ;
Products in this Bundle (15)
showing 1-5 of 15 products
Bonus
Animal Adaptation Project
Description
Get your informative writing unit rolling with these TEN fun prompts and activities. Students will go through the writing process to create a common core aligned research based writing piece.
Each activity is designed to be taught in one week or can be condensed into less days. The weekly assignments are:
Monday - Research, class discussion, prewrite
Tuesday - More research, Draft
Wednesday - Draft
Thursday - Revise/Edit
Friday - Publish, Craft & Share
Every activity is differentiated with multiple graphic organizers, making this project functional for kindergarten, first, second or third graders. These projects were originally designed for second graders.
Each activity includes:
Teacher Weekly Lesson Plan
Student Prompt
Student Planning Page
3 Versions of Student Drafting Pages
Genre Editing Checklist
Publishing Pages
Craft Pages
2 Differentiated Rubrics
Completed Teacher Examples
*Some projects may be longer - please view the preview files*
Students will write in the format of: topic sentence or paragraph, 4 fact sentences with detail sentences [written in paragraph format], and a closing sentence or paragraph.
These projects are great for:
Whole group writing
Small group writing
Literacy centers
Early finisher activities
Sub plans
Student teachers
Enrichment
You might also be interested in:
Please open the preview files to see exactly what is included and ask all questions before purchasing.
Don't forget to follow me on TpT to get first access to my resources, which are always 20% off for the first 24 hours.
You can also connect with me for first access to my resources, giveaways and FREEBIES via: Email | Website | Instagram | Facebook | Teachers Pay Teachers
Enjoy! Don't forget to leave feedback on all paid purchases for future credit toward free resources.
Teaching Duration
3 months
Report this resource to TPT
Standards
to see state-specific standards (only available in the US).
Write informative/explanatory texts in which they name a topic, supply some facts about the topic, and provide some sense of closure.
With guidance and support from adults, focus on a topic, respond to questions and suggestions from peers, and add details to strengthen writing as needed.
With guidance and support from adults, use a variety of digital tools to produce and publish writing, including in collaboration with peers.
Participate in shared research and writing projects (e.g., explore a number of "how-to" books on a given topic and use them to write a sequence of instructions).
With guidance and support from adults, recall information from experiences or gather information from provided sources to answer a question.