Instructions Not Included - No Se Aceptan Devoluciones - Movie Packet in Spanish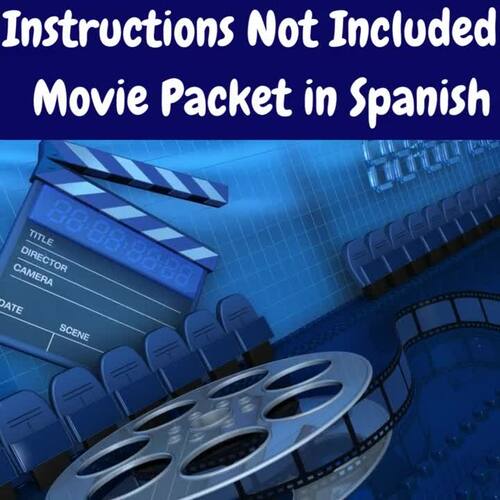 ;
10

th

- 12

th
,
Higher Education
Description
This 13 page best seller video packet in Spanish has the perfect activities to accompany the movie, Instructions Not Included (No Se Aceptan Devoluciones). Instructions Not Included is a funny, heartwarming movie that will improve students' listening comprehension!
Instructions Not Included is great for intermediate and advanced levels of Spanish and the movie has Spanish or English audio with subtitles if needed.
Instructions Not Included is on Netflix and is a favorite among Spanish students because it is funny but also has a great message.
RESOURCES TO TEACH INSTRUCTIONS NOT INCLUDED
This best seller packet includes many great activities for your Spanish classes!
This packet includes the following activities in Spanish:
*True/False Quizzes (Basic and Intermediate/Advanced versions) with Answer Key
*Summary of the Movie Writing Activity in Spanish
*New Ending Writing Activity in Spanish
*Blank Fill-In Movie Information Sheet in Spanish
*Movie opinion fill-in sheet - Class or partner discussion guide
*Movie review activity - La Critica del Cine (can also be done online so it is interactive electronically)
*Movie analysis activity - Decribe favorite scenes, characters, etc.
What Teachers Like You Are Saying:
⭐⭐⭐⭐⭐ This was a life saver, and it led to a wonderful class discussion.
⭐⭐⭐⭐⭐ This is an excellent movie and packet! Meaningful activities for the students and I was able to print and copy right away! Love it!
⭐⭐⭐⭐⭐ I seriously LOVE your resources! My students really enjoy being able to offer their opinions and prove their knowledge of the film.
ALL of our movie packets with tons of resources are here!
ALL sparkenthusiasm movie guides
Let's connect! We would love to hear from you!
Have a great school year!
Report this resource to TPT