Instruments of the Orchestra Escape Room - Digital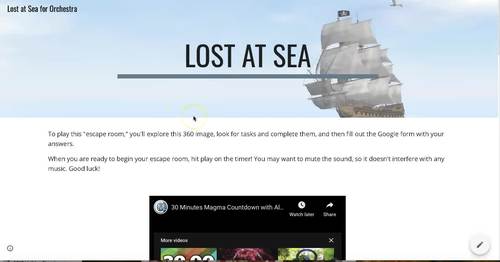 ;
What educators are saying
Really cute idea to do an Escape Room with the musical instruments! I used this to practice the names of the instruments.
With explanation, my kids really liked this activity. It kept them occupied for awhile while when we needed to be doing all digital activities.
Description
Are you looking for a fun and interactive way for your students to practice musical concepts? This Digital Escape Room activity is a fun way for virtual students or small groups to apply and practice what they know about the Instruments of the Orchestra. This fun Digital Escape Room has students completing five tasks digitally as they explore a 360 image, then entering answers into a Google Form to escape the room (or in this case, to find their way back home from being lost at sea!)
The tasks included in the Digital Escape Room are:
Task 1, Orchestra website: Students visit the website, then answer a question about orchestra set-up
Task 2, Watching a performance: Students watch a video of the Canadian Brass, then answer a question about instrument families
Task 3, Vegetable orchestra video: Students watch a vegetable orchestra video, then answer a question about instrument families
Task 4, Quizizz: Students do a Quizizz for instrument families, then answer a question about how percussion instruments make sound
Task 5, Instrument website: Students visit a website and read about three different instruments, then answer a question in a Google Form
Your students will ❤️ love ❤️ completing the tasks in this Digital Escape Room!
FREQUENTLY ASKED QUESTIONS
❓What technology will students need to complete the escape room?
Students will need to have access to a device, and access to the internet, YouTube, and assorted websites.
❓What if my students can't access Google Sites?
Instructions are provided for creating the escape room in another platform, like Google Classroom or Schoology, by compiling the links for the three aspects of the escape room: the 30-minute timer, the 360, and the Google Form.
Check out what people are saying about this resource:
❣️"This was a great review of instruments of the orchestra for my 5th graders. The escape room concept was really easy to use for virtual learning and kept my students engaged!"
❣️"The kids loved the 3D effect of the ship on the sea, and it was one of the very first digital escape rooms to be used in our school during closure. Aileen is so clever with technology."
Please email me with any questions or concerns at mrsmiraclesmusicroom@gmail.com.
Teaching Duration
30 minutes
Report this resource to TPT