Integers - Guided Notes, Presentation, and Interactive Notebook Activities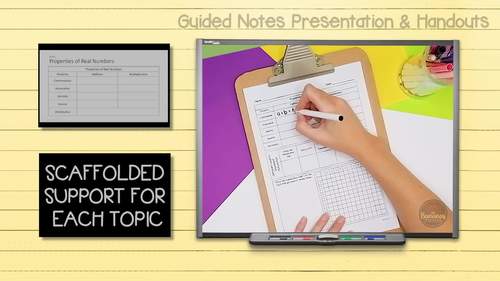 ;
Also included in
This Algebra 1 Bundle is flexible, editable, and can be used for in-person or distance learning. Take the time and stress out of creating your own guided notes and presentations. There are many ways to use this engaging bundle. Students can either build interactive math notebooks with guided notes (

Price $55.60

Original Price $69.50

Save $13.90

This HUGE (over 1,000 pages) high school bundle contains a full-year of guided/scaffolded notes and interactive notebook activities for an entire year of Algebra 1, Geometry, and Algebra 2. The Algebra 1 bundle contains 11 units of study plus 2 mini-units, the Geometry bundle contains 13 units, and

Price $180.74

Original Price $258.20

Save $77.46

This HUGE (over 500 pages) Algebra curriculum pack contains three of our full-year, best selling bundles: Guided Notes Bundle (scaffolded notes, presentation/presentation handouts, INB activities, quick checks for understanding), Student Practice Pages Bundle, and Algebra 1 Assessments Bundle. All

Price $90.72

Original Price $129.60

Save $38.88

This product contains three full years of editable content (Algebra 1, Geometry, Algebra 2) for the high school mathematics classroom. It includes Guided Notes Bundles (guided notes, presentation, presentation handouts, INB foldable activities, and quick checks for understanding), Student Practice P

Price $320.15

Original Price $492.55

Save $172.40

Custom bundle of math products for Michelle.

Price $75.53

Original Price $107.90

Save $32.37
Description
This flexible resource on Integers allows students to either build interactive math notebooks with guided notes (keys included) and foldable activities OR use the included presentation handouts (keys included) with the PowerPoint presentation for focused instruction. Quick checks for understanding (keys included) help to determine how well your students understand the material as you go. Choose what works best for your class and modify to make the content fit your needs. Notes are designed to clearly present the topics and reach all types of learners.
The zip file includes BOTH , plain-font resources and ready-to-print, non-editable PDFs. Suggested use guides are included.
Interactive Math Notebook FORMAT – Includes 3 parts: guided notes, foldable activities, and quick checks for understanding. Piece the components together and students can create their own "math textbook" in a math journal.
Presentation Sheets FORMAT – Include 2 parts: guided notes and quick checks for understanding. They are organized in the same order as the included PowerPoint and are designed to print and present. The quick checks can be cut off the bottom of the note sheets and turned in as an assessment tool.
Presentation – Plain-font, no frills, PowerPoint presentation that you can use to present content to students. Slides have blank, student note templates followed by filled in teacher keys. Modify the editable presentation to best fit your needs.
Topics presented in this product include:
Properties of Real Numbers
Different Ways to Represent Multiplication
Reviewing Multiplying
Factors
Prime vs. Composite
Prime Factorization
Factor the Number in Three Different Ways
Complete the Prime Factorization for the Numbers
Prime Numbers 1-100
Is one a prime number?
Integers
Positive vs. Negative
Comparing Integers
Compare Two Numbers Using a Number Line
What do the inequality symbols mean?
Write an Integer that Matches Each Sentence
Write a Problem for Each Sentence
Adding Integers
Use the Number Line to Add Two Integers
Multiple Representations of Adding Integers
Use the Number Line to Subtract Two Integers
Use the Number Line to Subtract Two Integers (Second Integer is Negative)
Multiple Representations Subtracting Integers
How do you Change a Subtraction Problem to an Addition Problem?
Real World Examples of Adding and Subtracting Integers
Multiplying Integers
Multiple Representations of Multiplying Integers
Dividing Integers
Multiple Representations of Dividing Integers
Order of Operations (PEMDAS or GEMDAS)
Integers Student Practice Pages: One full page of practice for each topic covered in the quick checks for understanding. Includes student pages and teacher keys. Perfect for homework, classwork, or a review.
Integers Editable Assessments Two editable assessments that pair perfectly with the unit.
Related Products:
**Full-year Curriculum Packs**
Algebra 1, Geometry, Algebra 2 Curriculum Pack MEGA BUNDLE
Algebra 1 Curriculum Pack BUNDLE
Geometry Curriculum Pack BUNDLE
Algebra 2 Curriculum Pack BUNDLE
Scaffolded Notes/Interactive Notebook Bundles
Pre-Calculus Add on for Algebra 2 INB Bundle
High School Math Interactive Notebook Bundle (Algebra 1, Geometry, Algebra 2)
Student Practice Pages Bundles
Algebra 1 Student Practice Pages Bundle
Geometry Student Practice Pages Bundle
Algebra 2 Student Practice Pages Bundle
High School Math Student Practice Pages Bundle (Algebra 1, Geometry, Algebra 2)
Assessment Bundles
High School Math Assessment Bundle (Algebra 1, Geometry, Algebra 2)
Consumer Math
**If you like what you see, please click on the "Follow Me" star to learn about new products, sales, and more!
Report this resource to TPT
Standards
to see state-specific standards (only available in the US).
Find the greatest common factor of two whole numbers less than or equal to 100 and the least common multiple of two whole numbers less than or equal to 12. Use the distributive property to express a sum of two whole numbers 1–100 with a common factor as a multiple of a sum of two whole numbers with no common factor. For example, express 36 + 8 as 4 (9 + 2).
Understand that positive and negative numbers are used together to describe quantities having opposite directions or values (e.g., temperature above/below zero, elevation above/below sea level, credits/debits, positive/negative electric charge); use positive and negative numbers to represent quantities in real-world contexts, explaining the meaning of 0 in each situation.
Understand a rational number as a point on the number line. Extend number line diagrams and coordinate axes familiar from previous grades to represent points on the line and in the plane with negative number coordinates.
Understand that integers can be divided, provided that the divisor is not zero, and every quotient of integers (with non-zero divisor) is a rational number. If 𝘱 and 𝘲 are integers, then –(𝘱/𝘲) = (–𝘱)/𝘲 = 𝘱/(–𝘲). Interpret quotients of rational numbers by describing real-world contexts.
Evaluate expressions at specific values of their variables. Include expressions that arise from formulas used in real-world problems. Perform arithmetic operations, including those involving whole-number exponents, in the conventional order when there are no parentheses to specify a particular order (Order of Operations). For example, use the formulas V = s³ and A = 6 s² to find the volume and surface area of a cube with sides of length s = 1/2.