Interactions In Ecosystems Explore Card Sort (NGSS MS-LS2-2)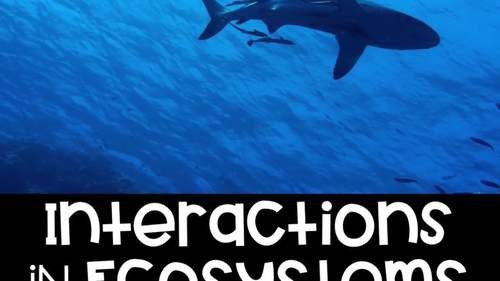 ;
What educators are saying
I used this after the speed dating activity. I loved all of the resources that I got from this seller for the ecosystem unit! I will be purchasing more units for next year!
My students really enjoyed this activity. It kept them engaged and reinforced concepts. Thank you for a great resource!
Also included in
Teach ecosystems, the interactions within them, and the consequences of disruptions to their delicate balance by exploring invasive species - specifically, the arrival of "murder hornets" in the U.S. in 2020. This storyline sets students up to dig into concepts like ecosystem roles, ecosystem servic

Price $30.00

Original Price $45.75

Save $15.75
Description
Guide student discovery of interactions in ecosystems - and the patterns in interactions that exist across ecosystems - in this card sort exploration task. In this activity, students read about specific interactions in ecosystems, develop their own categories to sort those interactions, and provide reasoning for their thinking – all before being introduced to official definitions to describe these concepts (predation, competition, parasitism, mutualism, commensalism). This is a perfect exploration activity for an NGSS storyline or a 5E instructional sequence on interactions in ecosystems and can easily be tied into units that address resource availability and the cycling of matter and energy in ecosystems. 
This activity focuses on the Crosscutting Concept of patterns as students actively seek out patterns of interaction, and the activity incorporates the Science and Engineering Practice of Constructing Explanations, as students communicate explanations for their groupings.
This activity can easily flow into an Explain activity where the teacher provides the scientific terminology for each type of interaction (posters to highlight each definition are included), and students can reevaluate their groupings to make changes or identify further similarities within each category.
Learning Targets:
Students will identify and describe patterns of interactions between organisms in a variety of ecosystems.
This lesson includes:
3 student pages
18 interactions cards [text, image, + extension link]
5 vocabulary cards
detailed teacher lesson guide (7 pages)
How can this lesson be used?
evaluate prior knowledge of patterns of interactions in ecosystems
guide discovery of the concept of patterns of interactions within ecosystems
reinforce vocabulary as students sort examples (from the interactions cards) for each vocabulary term
formatively or summatively assess student understanding of interactions in ecosystems (ex/ provide an interactions-card and ask students to identify and describe the interaction and/or provide additional examples from the unit storyline)
How much class time will this take?
The card sort lesson was designed to be completed within one class period. However, these cards can be used again and again in different tasks to support student learning and/or evaluation. 
Is this NGSS-aligned?
This activity works toward student mastery of the Disciplinary Core Ideas, Science and Engineering Practices, and/or Crosscutting Concepts in the tagged Performance Expectations.
This activity develops student understanding of the following Disciplinary Core Ideas:
LS2.A: Interdependent Relationships in Ecosystems - Similarly, predatory interactions may reduce the number of organisms or eliminate whole populations of organisms. Mutually beneficial interactions, in contrast, may become so interdependent that each organism requires the other for survival. Although the species involved in these competitive, predatory, and mutually beneficial interactions vary across ecosystems, the patterns of interactions of organisms with their environments, both living and nonliving, are shared. (MS-LS2-2)
This activity engages students in the following Science and Engineering Practices:
Constructing Explanations and Designing Solutions
This activity encourages students to think about the following Crosscutting Concepts:
Can I see an example of how you structure your lessons and student materials?
Download my Let's Talk Trash Anchor Phenomenon freebieH/a>!
What if I have questions?
You can email me at nvantassel@iexplorescience.com with questions about resources or implementation. I'm happy to help!
⭐️ What Other Teachers Are Saying ⭐️
⭐️ "This worked great as an intro to activity for my interactions topic. I had students in groups of 4. I split each group of 4 into pairs for them to do the first part of the activity (each pair did one page of the first 2 pages). Then I had them work together as a group of 4 to brainstorm and make their groups on the 3rd sheet once they had read all of the interaction cards."
⭐️ "I used this lesson for an observation and it was a big hit. Students were engaged and said they had a lot of fun working together to make groups."
Check Out These Related Resources
This activity bundle is part of a complete unit storyline that works toward these standards:
MS-LS2-2 Construct an explanation that predicts patterns of interactions among organisms across multiple ecosystems.
Terms Of Use:
Copyright © 2018 iExploreScience LLC. All pages of this product are copyrighted, and all rights are reserved by the author. You may not create anything to sell or share based on this packet. The product is created for the use of ONE teacher. Please do not share with colleagues. If they like the product, please send them to my TpT store. I appreciate your support with this request! You are permitted to share ONLY the cover image of this product on your blog or via social media as long as you link back to my product on TpT. Failure to comply is a copyright infringement and a violation of the Digital Millennium Copyright Act (DMCA). Clipart and elements found in this PDF are copyrighted and cannot be extracted and used outside of this file without permission or license. Intended for classroom and personal use ONLY.
*Note: NGSS is a registered trademark of Achieve. Neither Achieve nor the lead states and partners that developed the Next Generation Science Standards were involved in the production of this product, and do not endorse it.
Answer Key
Does not apply
Teaching Duration
50 minutes
Report this resource to TPT
Standards
to see state-specific standards (only available in the US).
Cite specific textual evidence to support analysis of science and technical texts.
By the end of grade 8, read and comprehend science/technical texts in the grades 6–8 text complexity band independently and proficiently.
Construct an explanation that predicts patterns of interactions among organisms across multiple ecosystems. Emphasis is on predicting consistent patterns of interactions in different ecosystems in terms of the relationships among and between organisms and abiotic components of ecosystems. Examples of types of interactions could include competitive, predatory, and mutually beneficial.